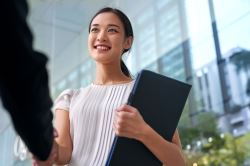 When looking for work as a Legal Secretary, one of the first things that we advise our Members to do is to ensure their CVs are tailored for Legal Secretary positions. We receive many CVs from people who want help in securing employment and we often notice that people are not including the information that recruiters need to see.
Your CV is your first impression on a potential employer so it is essential that you get it right. Recruiters sometimes receive a great deal of applications for an advertised vacancy, so your CV needs to stand out and highlight your Legal Secretary skills.
In this article we are going to focus on your personal profile, which is the opening statement on your CV. It appears at the top of the page, underneath your name and contact details. Your personal profile gives you the opportunity to present yourself and your Legal Secretary expertise in the best light. It sums up everything in one clear and concise paragraph and introduces the recruiter to the rest of your CV.
We often see personal profiles that are generic, listing attributes such as "good team player" or "able to prioritise work and meet deadlines". Whilst these are great skills to have as a Legal Secretary, they do not spark enough interest as many people say the same things.
So before you write your personal profile, think carefully about what your areas of expertise are and why you would like to work as a Legal Secretary. Your specific strengths and enthusiasm should shine through so that recruiters want to offer you an interview.
Here are some examples depending on what stage you are at in your career:
A personal profile for a qualified Legal Secretary
A qualified Legal Secretary with excellent legal knowledge and skills. Having passed ILSPA's Legal Secretaries Diploma course, I understand various areas of law and the legal procedures involved in Legal Secretary work. Through the course, I acquired meticulous legal document production skills and knowledge of why certain tasks are done due to the principles of law behind them. In my previous roles, I gained transferable skills which complement my qualification well. I am passionate about entering the legal profession and putting my expertise into practice.
A personal profile for an experienced Legal Secretary
A Legal Secretary with more than 10 years' experience at international law firms in London. During my career, I have acquired a vast array of expertise in the Legal Secretary field from working in various legal departments. Having been given a great deal of responsibility in my roles, I have been able to improve the efficiency and overall performance of my firm. I go the extra mile to ensure that correspondence and documentation are produced meticulously, and always complete tasks effectively and on time. I am looking for a new opportunity where I can enhance the reputation of a law firm through the strong ethic of my work. 
As you can see, these profiles are specifically tailored for a Legal Secretary role and highlight a person's strengths and enthusiasm. Writing your personal profile in this way will ensure that recruiters notice you.
If you would like to receive further advice from ILSPA in regard to writing your CV, please send a copy of your CV to cv@institutelegalsecretaries.com. We are happy to provide you with CV help as well as guidance to secure employment.