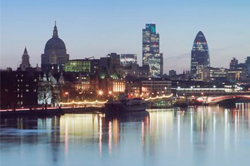 Those of you who are starting out in your legal secretary careers may be considering looking for employment in one of the larger law firms. We have provided some information about five large law firms which have offices in the UK and overseas.
Pinsent Masons
Today, Pinsent Masons is the result of several mergers which have taken place in recent years, although the firm claims that the various firms which now make up Pinsent Masons have been practicing law in England since 1850. McGrigors and Pinsent Masons merged in May 2012, but the name of the practice comes from the merging of Pinsent and Masons in December 2004. This particular merger was seen as a good way of strengthening the pool of potential clients for both firms. Pinsent has always been a practice which attracts a wide range of corporate clients. Masons was, and Pinsent Masons remains to this day, one of the largest and most respected law firms within the construction and IT industries.
The firm has a "friendly and supportive working environment with a focus on work life balance". Employees of Pinsent Masons can expect to have the opportunity to continue to learn within their roles, as the firm has "made a clear commitment to the development and retention of its people".
The firm is part of The 5% Club, meaning that their aim is to have 5% of their UK workforce consist of graduates, apprentices and students in sponsored studies within the next five years. Thus, the firm is perfect for those who are just starting their legal careers.
Eversheds LLP
Eversheds is a relatively new law firm that was founded in 1988 in London, but it came about as the merger between four different smaller law firms that had already been practicing for much longer. The four-way merger took place between Alexander Tatham & Co (originally based in Manchester), Broomheads & Neals (originally based in Sheffield), Daynes Hill & Perks (originally based in Norwich) and Evershed & Tomkinson (originally based in Birmingham). These firms all had different specialties, and Eversheds now has an extensive and diverse range of niche legal specialities including clean energy, intellectual property, commercial dispute resolution, project finance, employment law and many, many others. Eversheds is now an international firm employing "over 4,000 people in locations across Europe, the Middle East, Africa and Asia."
Eversheds LLP has a secure foundation of values that supports both their clients and their employees alike. They describe themselves as 'client centred', stating "We will look after our clients interests as if they were our own. We will deliver levels of service and build relationships that are second to none."
In regard to their employees, they value teamwork and mutual respect, maintaining "We will place the firm's interests ahead of the agenda of any individual. We will act as one firm, recognising the different important contributions we each make…We will take care of each other and we will treat everyone with respect, fairness and courtesy. We will recognise the need to balance personal and business lives."
Employees of Eversheds LLP describe the atmosphere as friendly, a place where "We take our work seriously but we enjoy ourselves."    
DLA Piper LLP
DLA Piper LLP is an international law firm with headquarters in both London and Chicago. When measured on revenue alone, this is the largest law firm in the world. It is an Anglo-American firm which was formed principally by the merger between Gary Cary Ware & Freidenrich LLP, Piper Rudnick LLP and DLA LLP. Both Gary Cary Ware & Freidenrich LLP and Piper Rudnick were American law firms (based in San Diego and Chicago, respectively); but DLA was founded and based in London. Since DLA Piper is such a large firm, it has lawyers who deal with most areas of the law, but it does have a particular reputation as a corporate law firm, with departments specialising in arbitration, banking, insurance, pensions, private equity and taxation.
Aspiring legal professionals should take note of the fact DLA Piper LLP believes that "Our continued success relies on our ability to provide a supportive, inclusive and motivating environment where everyone has a role to play in supporting the delivery of outstanding service to our client… We offer exceptional career opportunities to our lawyers, aspiring graduates and business support professionals, in an environment that is challenging, rewarding and, we believe, truly different from our competitors."
DLA Piper believes that learning and development are very important for all their employees. They have an award-winning International Learning and Development Curriculum and all employees have access to formal training courses.
Addleshaw Goddard LLP
The merging of British law firms Addleshaw Booth & Co and Theodore Goddard in May 2003 gave rise to Addleshaw Goddard LLP. The firm has its headquarters in London and also has offices in Leeds and Manchester in the UK and overseas in Dubai, Oman, Qatar, Singapore and Hong Kong. It is a firm which regularly ranks amongst the 10 largest legal practices in the country. There is a long list of the areas of law in which Addleshaw Goddard operates, including competition litigation; data, communications and technology; finance litigation; fraud, regulatory and corporate crime; health and safety; insurance and reinsurance; and intellectual property litigation.
Addleshaw Goddard LLP currently holds the title of CILEx Employer of the Year, and their business support teams have a fantastic reputation. Their Transaction Services Team won Team of the Year 2015 at the same CILEx awards ceremony.
Addleshaw Goddard has a simple but very successful recruitment philosophy, which is that "Addleshaw Goddard is a people business. And every single person in our organisation, whether they're a partner, associate, HR practitioner or secretary, needs to be highly skilled and highly motivated. Fully committed and inherently flexible. Professional and pragmatic."      
Herbert Smith Freehills
This firm is the result of an Anglo-Australian merger which took place in 2012. Herbert Smith, one of the UK's silver circle law firms, merged with Freehills, one of Australia's 'Big Six'. Herbert Smith was seen as a specialist in the areas of litigation and corporate law, operating in particular in the M&A and equity capital markets. Freehills was a commercial law firm which had lawyers working on commercial cases all over the Asia-Pacific region. The firm now has headquarters in both London and Sydney. Herbert Smith Freehills is now one of the largest commercial and corporate firms in the UK. Its clients include 29 of the FTSE 100 companies, a number which represents the second-highest market share of any corporate law firm in the country.
Herbert Smith Freehills has been named one of The Times Top 50 Employers for Women in 2015. The firm prides themselves on having a "culture of fairness, equality and inclusion, where talented people with different views, experiences and backgrounds can flourish."
For individuals looking to start a career as a legal secretary, this firm promises to "give you training, support, intellectual challenges and international opportunities that are tailored to your needs and objectives."