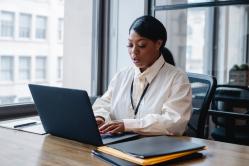 Working as a temp is a brilliant way to explore different industry sectors and positions, and to gain valuable skills and experience. Many of our candidates end up securing a permanent position through their temporary placements, rather than going through the normal interview process, so a temp position can be a great introduction. Temping offers flexibility to fit around other commitments or to fill a gap in between permanent employment while you are job hunting. Read on to explore how temping works and what the opportunities are for turning a temp job into a permanent position.
What is a temp role?
A temporary role is a short-term assignment where you are employed through a recruitment agency. How long a temp job will last depends on the needs of the company requiring temporary staff. Roles vary and can be fixed term, full time or part time. There are various reasons why a client might require temporary employees, which we explore below.
– To cover a leave of absence
This tends to be for a short period of time but can range from one day to many months. A leave of absence could be due to an employee taking sick leave or compassionate leave, and it is not unusual for the end date of the temporary assignment to be unknown. Therefore, the more flexible the temp can be, the better. Sometimes a temp is needed with just a few hours' notice, so temp agencies often have a few candidates on call to ensure bookings are filled quickly. Often you won't have to interview for a short-term temp role, especially if the recruitment agency you are temping through has a good relationship with their client and trust is already there.
– To fill a contract role
A contract role tends to be for a set period of time, such as maternity leave, which is usually between six and 12 months. These longer assignments often require candidates to interview, and an agency can send multiple candidates in its shortlist. You will usually be employed directly by the client and on their payroll, paid monthly, rather than hourly through the temp agency. This means you may be eligible for the same company benefits as permanent employees, such as private healthcare or a discounted gym membership. Sometimes clients will offer a completion bonus, which is paid out at the end of the contract. This is to encourage the candidate to stay in the role to the end, rather than starting their job search for their next opportunity early. This can be a nice incentive and windfall at the end of an assignment.
A real benefit of a contract role is that if the employee you are covering does not return to their role, you would likely be the most obvious potential replacement. If you have done a good job and like the position, it can lead to permanent employment with the benefit of having allowed you to try it out first.
– To fill a gap
Most PA and administrative employees are on a one-month notice period, and it can take longer than one month to source a replacement, who may also be on a notice period. This means there could be a gap between when one employee leaves and the next is yet to start. Often this creates a need for a temporary employee. Often a temp will get a handover from the existing employee and then the temp will hand the position over to the replacement employee, to ensure seamless support is provided. This usually means there is no potential for a permanent opportunity; however, the end date of the assignment will be known from the start, so it makes it easier for you as a temp to plan your next move.
What are the benefits of temporary work?
There are many benefits to temporary employment, which we delve into below.
– Flexibility
A short-term temp role gives you a great amount of flexibility. Perhaps you are studying and want to temp during quieter times, or you have another business and temping helps you supplement your income. You do not sign a contract, so you can leave without giving notice. Be aware that this goes both ways, and if the client no longer needs the support, they can also cancel the booking. However, it's not best practice to leave a role without giving notice – and most clients and candidates respect this unwritten rule.
– Ability to explore new areas
A temp booking can allow you to explore a new industry sector without having to commit to it in the long term. You may think that the corporate sector is not for you, for example, but by experiencing it first-hand you'll be able to make a more informed decision.
– Opportunity to enhance your network
Temping will allow you to meet a wide range of new people, some of who may be helpful to your permanent job hunt or if you are looking for a role in the future. We always recommend connecting with contacts on LinkedIn, which is a great way to stay in touch – you never know where a connection may lead.
– Interview practice
If you have to interview for a temp or contract role, this can be very helpful in allowing you to practice your interview technique. Often the interviews are not as thorough as those for a long-term position, so you will learn how to sell yourself quickly and perfect that all-important first impression.
What are the drawbacks of temporary work?
Temporary work is not for everyone, and below we look at some of the drawbacks.
– Lack of job security
As temporary roles are shorter-term assignments, there is a lack of security and you won't necessarily know where you will be working from one week to the next. Some people enjoy this variety, but for others, it can feel unsettling.
– A 'hoppy' CV
Generally, clients like to see CVs listing solid stints of experience. This shows them that the potential employee can commit to a role and succeed in it. If you do lots of temping, this movement on your CV may suggest you cannot stick with a permanent role.
– Lack of training
Clients will often not have the time to train someone to cover a short-term temp position, so the work can be more mundane or repetitive, such as answering the phone or doing basic admin, which may not feel very challenging.
Will temp work lead to a permanent position?
We can never guarantee where a temp role will lead, but it certainly can be a great opportunity to secure longer-term work. Here are some of the opportunities temping can bring.
– Repeat temp bookings
We often have clients who have repeat temporary requirements, and they will ask for the same person back if they have had a good previous experience. This is a great opportunity for a candidate, particularly someone whose preference is temp work. Also, by receiving positive feedback from a client, your temp agency will feel more confident about using you again in the future.
– Great connections
Even a junior temp role can result in a longer-term opportunity. You never know who you will meet or be exposed to, and leaving a positive impression can aid your job search. Someone might know of a possible vacancy they could recommend you for, or perhaps another company in the building is looking to hire.
– Temp-to-perm roles
If a client has hired a temp because there is a vacancy they are looking to fill permanently, this puts you in the best possible place to try to secure that role if you like it. Impressing the client will give you a real advantage over other candidates they have yet to interview.
How to secure a temp role
There are several things you can do to make yourself a more attractive candidate for temping. Here are some of our top tips to help you stand out from the crowd.
– Stay in touch
People's availability changes all the time, so we would encourage you to stay in touch with your consultant so they know when you can and can't work. The more accommodating you can be, the better, especially if you are willing to go to a temp booking on the same day and fill those tricky urgent requirements.
– Be flexible
It is better to be earning some money than none. The more flexible you are with the rates you will take and the roles you will do, the more temp vacancies you will be offered.
– Give it your all
You may one day need a reference, so it's always important to leave a good impression. Plus, the recruitment agency you are temping through will get feedback after each assignment, so any negative comments can affect your ability to secure temp work in the future.
Land your perfect temp role through Oriel Partners
Oriel Partners works with clients across all sectors, both corporate and creative. Our clients range from global multinationals to small boutique firms, and we hire on a temp, contract or permanent basis. If you think you have what it takes to be a good temp – flexible, a team player, committed and quick to learn – then please do get in touch; we would love to help you.
Article contributed by Oriel Partners