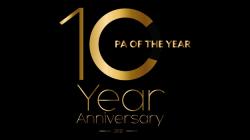 On 18 November 2021, SecsintheCity, the UK's only dedicated job site for business support professionals, celebrated the tenth annual PA of the Year Awards, partnering with Tay Associates.
These awards are an important event for the recognition of the excellent work that PAs, EAs, and office managers carry out every year. Given the uncertain nature of the last year, it's especially important to speak about the redoubtable nature of these professionals and the crucial role they play in every business.
Though the awards typically take place at The Ivy in London, this year – as was the case in 2020 – they were held virtually. Even so, attendees still turned out in their black-tie outfits on Zoom.