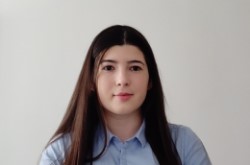 As a law degree student at the University of Sussex, Evelina Tarabuta has a keen interest and in-depth knowledge of law. When seeing how competitive the job market was for law graduates, she realised that she needed something to give her some practical experience, and make her stand out in the crowd. So, after some research, Evelina chose to study ILSPA's Legal Secretaries Diploma. Her career has gone from strength to strength since qualifying. She has started her own business and now offers legal services to a range of clients.
We spoke to Evelina about her company, her pro-bono work and her future plans.
What were you doing before studying with ILSPA?
Before studying with ILSPA, I started my law degree at the University of Sussex. While in my first year, I found that while an undergraduate degree prepares you academically, I needed more knowledge around the practical side of working in the legal industry, in order to get 'a taste' of what actually being in this industry is like.
What was it about being a Legal Secretary that interested you and why did you decide to study ILSPA's Legal Secretaries Diploma?
I found that law students are usually in very tight competition to gain relevant work experience, to help them secure post-graduate employment. As everyone knows, there is a vicious cycle of needing experience to secure experience in the first place. I wanted to commit the time to something that would give me the chance to break through this obstacle of lacking experience, and that would allow me to build a solid foundation for my practical skills. After doing some thorough research, and drawing up the pros and cons of various courses, I picked ILSPA in particular because it encompassed a very solid foundation of legal subjects, unlike other courses I have found, and secondly, because of its focus and support in securing employment. ILSPA made me feel very secure that I would have a very good chance at becoming employed after finishing the diploma and investing my time and effort, which was the end goal for me. A lot of the other companies promise good courses but seem to be missing that element of support. I really liked the aspect of membership offered by ILSPA, because it opened up access to a new supportive community.
You currently work as an Assistant with various legal professionals as a sole trader. Can you tell us a bit about your business?
I offer various legal services as a legal secretary under 'Lexity', my sole trader business name. At the start, I focused more on legal administrative services, such as managing caseloads, liaising with clients, keeping records up to date, typing up legal documents and dictation. As I gained more experience, I expanded to offering services bordering more on paralegal work, where I prepare court documents and offer legal research services. I am currently working on a project for an independent barrister, carrying out research and preparing materials for the new SQE. To be honest, I was very relieved seeing how much the ILSPA course related to the research material I come across in my work. Having such a good foundation made the research process infinitely easier.
With the spare time I have, I also take on pro-bono cases, where I help individuals without representation, and that are not necessarily entitled to legal aid. In practice, this is usually clients looking to appeal their benefit decisions at the tribunal, unfair dismissals, consumer issues, etc. I will look to expand my services to criminal law too as I have really taken a liking to it, and I am strongly considering the ILSPA single-subject diploma in criminal law for when I have more time to commit. Until then, I am really at the beginning of my journey, and the possibilities really seem endless.
What advice would you give to people looking to use their ILSPA qualification to work for themselves?
I would emphasise the need for networking and building skills outside of what the legal aspect of the qualification teaches. ILSPA has amazing resources on networking, time-management, organisational tips, and office manner. Develop your professional character in a way that you would want to be perceived in your ideal position.
You secured your first Assistant role before completing your qualification. What advice would you give to students who wish to start their job search before the end of their studies?
To be open to starting from slightly varied roles, in order to build on their experience. A lot of legal secretary positions look very favourably on you the more experience you have under your belt. When you start with zero experience, be open to any role that can offer you transferable skills. You can begin with customer service, or working as a personal assistant in a slightly different field such as finance or recruitment. The key here is doing the right research into what roles will actually be useful to you and your journey. When you do apply for more relevant roles, make sure you draw on the transferable skills and outline them to the employer. Don't be scared to say that you haven't finished your diploma yet and that these are the new things you have worked on recently, including the grades you have received from individual assessments. You do not need to have finished something 100%, to have learnt something from it. I would also highly suggest simply getting in touch with a legal recruiter and asking them if they would be up for an informal chat. They have extensive knowledge of what employers look for and are often very willing to help.
What are your goals for the future? 
My long-term goals are to finish my law degree and then complete the Bar Practice Course. I want to build a career as a barrister. I am very happy that I made the choice to go with ILSPA because it helped me build the skills needed for a career at the bar, such as high attention to detail, research and organisational skills. I am very happy with how the beginning of my career has developed so far, and feel like the progress is very motivating in keeping me going with my degree. I would especially recommend this course to students.
If you are studying a law degree, like Evelina, and are looking to gain practical legal skills, take a look at ILSPA's Legal Secretaries Diploma Course.