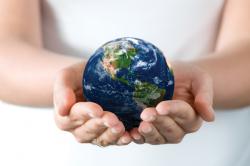 This year, the UK is hosting the 26th United Nations Climate Change Conference of the Parties (COP26). It is taking place from 31 October to 12 November in Glasgow. The conference will bring together world leaders, climate experts, activists and campaigners through talks on climate change. Agreements will be made between different parties as to how to tackle the escalating crises. Hopefully positive ones!
The goals of COP26 are to:
Reduce carbon emissions to net zero by 2050
Countries must aim to significantly reduce their carbon emissions by 2030 and then reduce them further to net zero by 2050. This can be done by:
Phasing out coal

Stopping deforestation

Switching to electric vehicles

Investing in renewable energy
Protect Communities and Natural Habitats
Climate change has already caused destruction to communities around the world and our natural world is suffering, from the oceans to the forests. Countries affected by climate change must:
Protect ecosystems and help them to recover

Build the infrastructure needed to protect homes, livelihoods and lives
Encourage Financial Mobilisation
Developed countries need to mobilise finance so that 100 billion US dollars can be put towards climate change goals each year. This will involve financial institutions releasing the money that is held in private and public sectors to achieve international net zero.
Work Together
It is essential for countries to work together to achieve these goals. During COP26, the Paris Rulebook must be finalised, which will enable the Paris Agreement to operate. Action to tackle climate change must also be accelerated by governments, businesses and individuals.
Greenpeace are one of the organisations which will be influencing and lobbying world leaders at the conference. Their team of activists, political experts and investigators want to send a clear message that COP26 can't be another wasted chance to fix the climate and nature crises we face. If you would like to support them in the work they are doing, you can make a donation here.