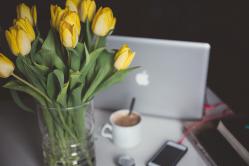 Take a look around your workspace. Is it organised or a disaster area? Can you quickly and easily find things? Are there any items that are just taking up space?
In honour of National Clean Off Your Desk Day, it's a great time to take a critical look at your workspace. Follow these three steps to make it a more productive area!
1. Create workspace zones. There are three zones you need to think about as you clear the clutter and put systems in place for staying organised. The three zones are:
Zone 1: Prime Workspace. Zone 1 is the main workspace at your desk – the centre of activity that is within arm's reach of your computer and phone.

Zone 2: Work Staging. Zone 2 is the area immediately next to Zone 1 and includes your active project folders, an incoming mail tray and the things you need easy access to as you work on your active projects. You may need to rearrange a few things on your desk so you can establish a specific direction for work to flow across your desk.

Zone 3: Storage, Archives and Supplies. These are the things you rarely touch during the day but need access to when necessary.
2. Think about which direction work flows best across your desk – from left to right or right to left. Set up your file sorters or trays for staging daily work/projects on one side of your desk and move them to pending or completed containers on the other side as you work on them.
3. Clear the clutter. Here are the steps to help you achieve this:
Take "before" pictures of your workspace so you can visually track your progress.

Clear the clutter! Start with Zone 1 – everything within arm's reach of where you sit at your computer/phone throughout the day.

Take absolutely everything off your desk. Throw out rubbish and put everything else in a box.

Determine which items are essential to your daily work and put them back on your desk. Or find a desk drawer or shelf where they can live. Be tough on yourself here. Ask yourself, "Is this really essential to doing my daily work?"

Leave the other items in the box and place it under or near your desk. Keep the box there for at least a month. If you use those items in that time, you can store or get rid of them. If you have personal items you want to keep, such as family photos, consider reducing the quantity or placing them outside of your primary work zone, in Zones 2 or 3, to reduce the visual clutter.

Take "after" pictures of your workspace, desk drawers, file drawers and storage cabinets in your immediate work area. Compare them to the before pictures. Pay attention to how they make you feel as you analyse them side by side. Then congratulate yourself on your progress!
Bonus tip!
Set up your own file-on-the-go station for quick and easy organising. When key organizing tools are at your fingertips, you can instantly gather, contain, label and create a home for the items on the spot. Some items to start with:
1 box of hanging file folders – letter size

1 box of manila file folders – 1/3 cut, letter size

1 box of coloured file folders – 1/3 cut, letter size

3-4 pads of assorted coloured sticky notes – 3" square size

2 pencils

2 pens (blue or black)

2 black permanent markers (fine or bullet tip)

1 file folder box or plastic tub designed for hanging files

1 box of clear quart-size storage bags that zip close

1 box of clear gallon-size storage bags that zip close

1 package of mailing address labels (optional)
When you clear the clutter, you help your brain better focus and relieve stress. I challenge you to apply these steps not only for the productivity improvements but the ultimate relief of getting organised!
Julie Perrine, CAP-OM, is the founder and CEO of All Things Admin, providing training, mentoring and resources for administrative professionals worldwide. Julie applies her administrative expertise and passion for lifelong learning to serving as an enthusiastic mentor, speaker and author who educates admins around the world on how to be more effective every day. Learn more about Julie's books: The Innovative Admin: Unleash the Power of Innovation in Your Administrative Career; The Organized Admin: Leverage Your Unique Organizing Style to Create Systems, Reduce Overwhelm, and Increase Productivity; and Become a Procedures Pro: The Admin's Guide to Developing Effective Office Systems and Procedures.