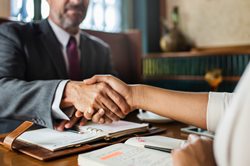 Looking for a new job can be daunting, especially in an area with a high amount of competition such as the law. It can sometimes feel impossible to know where to start. In situations like this it is beneficial to think of the job search as a process to follow. Simply Law Jobs has used their expertise to break the job search down into 10 steps that all job seekers can follow to make the process more manageable. Follow these top tips, and you'll be well on your way to that perfect job.
1. Check through your CV
Your CV is your greatest personal marketing tool, so make sure it is up to date, looks professional and makes a good first impression. Make sure that your CV is tailored to the job in mind. Cross-reference the information you have provided with the job descriptions, and make sure that your CV demonstrates as many of the required skills and experiences as possible. Highlight the key attributes that the employer is looking for, and don't worry about including things that aren't relevant.
Now that your CV is perfected, it's time to start applying. You can also upload your CV to Simply Law Jobs so that employers and recruiters can find you.
2. Be the first to know about new opportunities
It is important to remember that some recruiters won't wait until the application deadline to decide on a candidate, so it's important to be quick off the mark.
To help you with this, Simply Law Jobs have a fantastic alerts system that you can set up at the same time as you upload your CV. You choose which job categories, salaries and locations you'd like to hear about, and Simply Law Jobs will send alerts straight to your inbox. This means you'll be the first to know about new opportunities and will have a head start in perfecting your applications.
Make sure you keep an eye on your inbox and react quickly to any opportunities that catch your eye.
3. Tailor your cover letter
With so much competition out there, recruiters are unlikely to be impressed by a generic cover letter that you use for every job you apply for. Your cover letter is another opportunity for you to stand out, sell yourself and prove that you're the right person for the job, so don't waste it. Taking the time to write an individual cover letter for each application you make is definitely time well spent.
Be sure to keep the job description in mind while you're writing, and make your letter relevant to the job and firm you're applying for. Its purpose is to introduce your application, so make sure you don't just copy the details on your CV. The key to writing an excellent cover letter is to remember that it is quality, not quantity, that will catch a recruiter's eye.
4. Tidy up your online presence
It is very common for recruiters to do a quick background check before inviting you for an interview, and this will often start with a Google search of your name. It is a good idea to do a quick search yourself and see what comes up. Remember to check the images too. Is everything that comes up appropriate for a potential employer to see? If not, make sure you get rid of it before you start sending out applications. Don't let any of those wild nights out at university come back to haunt you.
5. Use social media
When checking your online presence, don't forget to include your social media profiles. The majority of recruiters (70%, according to a survey conducted by CareerBuilder) use social media as a standard part of their recruitment process. Remove anything inappropriate and consider tightening up your privacy settings.
Social media can also be a very useful tool to help you stand out to recruiters. Do you share any interesting industry news that you come across? Or have you been to any relevant events recently that you could post about?
Follow relevant people within the industry, and start engaging with posts by firms you'd like to work for. A thoughtful comment left on a Facebook post could help your application stand out to an employer.
6. Get networking
Networking is a fantastic way to get your name out there in the industry and meet people that could help you in your job search. Networking doesn't always have to be in person though; if you're not already on LinkedIn, you're missing out on a fantastic opportunity. You can add a lot more detail to your profile than you would be able to include on your CV. Even better, you can get endorsements from previous colleagues. Once your profile is complete and shows off all your skills and achievements, start making connections within the industry. Get involved in any interesting discussions, and share any industry-related news that you've been reading. Showing that you're actively interested in the industry could give you the edge over other candidates.
7. Keep an eye on employers you'd like to work for
Make sure you don't miss out on any opportunities from your dream employer. Take a look at the A-Z of companies recruiting on Simply Law Jobs and set up alerts for those you are interested in.
8. Ask a friend
Simple mistakes such as spelling or grammar errors can be enough to put a recruiter off – especially if you're pursuing a Legal Secretary role, where attention to detail and correct document production are key parts of the position. Tools like Grammarly are great at picking up little things that you might miss. However, don't rely on these tools entirely. Always get a second pair of (human) eyes to look through your application before you hit send.
When you've been working on your application for a while, it can become very difficult to pick up on small errors yourself, so it's important not to skip this step. Any constructive criticism your proofreader might have could also be really valuable for strengthening your CV.
9. Organise your time
The job-hunting process can be long and at times feel overwhelming. A good way to tackle this is to dedicate a certain amount of time to it each day. This means that you can chip away at it consistently and it won't seem to be such a daunting task.
10. Don't panic!
Whatever you do, don't panic! It's very unlikely that you'll get the first job you apply for. Remember that persistence is key, and try to learn from each piece of feedback you receive. Follow these 10 steps, and it won't be long before you find that perfect job. Good luck!
Article provided by Simply Law Jobs.
 At Simply Law Jobs, we specialise in advertising thousands of the latest job vacancies across all levels of the legal sector. We are the UK's leading legal niche job board, providing businesses with a cost-effective and efficient alternative to generic job sites. Job seekers are at the core of what we do, so we offer candidates a site tailored entirely to their industry. Our promise is simple, we ensure quality over quantity and provide the very best approach to candidate targeting, delivering an outstanding return on investment.