The tour we conduct takes Students around an area of London known as 'The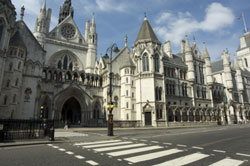 Temple', where many barristers' chambers are located, and the Royal Courts of Justice in the Strand, which contains 86 courts and 3.5 miles of corridors and houses the High Court in London and the Appeal Courts, both Civil and Criminal.
We visit part of the 'Inner Temple' and pass by the famous 'Temple Church' - yes, the very same Temple Church depicted in the Da Vinci Code!
It's like entering a different world because, as we step through an archway from the very busy Strand into a side passage, the traffic noise suddenly disappears into deafening silence! We stop to look around us at all the beautiful buildings housing the chambers and discuss how barristers' chambers operate.
We also stop at the place that is the most televised area of The Temple (depicted in all TV programmes related to the legal profession) and move southwards through 'The Cloisters' and across the 'boundary' of Middle Temple Lane. It is here that students are asked to perform their very first assignment – to locate a particular set of chambers.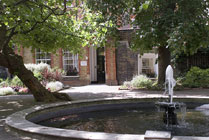 We move on around the corner to 'Middle Temple Hall' and walk on a little ways to 'Fountain Court' - so named because outside this set of chambers is a fountain from where you can see 'Temple Gardens' and the 'Embankment' to the south side. (The fountain is of very great sentimental value to me since it was presented by my Mother in memory of my Grandfather who died in 1975. We call it our 'Family Fountain'!).
We then move back to the Royal Courts of Justice and go inside. I explain a little of the history of the magnificent building and take students to the 'Bear Garden', so named because … (take the tour to find out!). We then walk down the firstfloor corridor, looking into all the courts on the way. It is amazing to think that all current appeal cases are going on right here, right now!
Then we come to the most recently acquired sculptural exhibit in the RCJ, depicting Lord Woolf made entirely from wire hangers! There is also an exhibition of 'Wigs and Gowns' that describes the origins of wigs worn by lawyers and the different types of wigs and gowns and what they represent.
I then show Students the location where German builders (who were brought in by the Government to complete work when the original company went on strike) slept, ate and worked, too afraid to leave the building.
Finally, the students divide into groups and undertake a few fun assignments to get to know their way around the RCJ. It's fun, exhilarating and a real eye-opener. Come and join us!