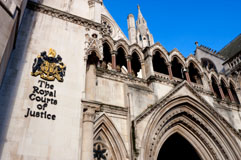 Once a month, Students have the opportunity to attend a tour of the Royal Courts of Justice in the Strand, commonly known as the 'Law Courts'. The building houses the Court of Appeal and the High Court. As you may have learnt from the English Legal System unit of the Legal Secretaries Diploma course, the Court of Appeal has two divisions – the Civil division, which hears appeals from the High Court, and the Criminal division, which hears appeals from the Crown Court. The High Court has three divisions – the Queen's Bench division, the Chancery division and the Family division – and accommodates the Administrative Court. The building, breathtaking with its Gothic style and lavish interior, was opened by Queen Victoria in 1882.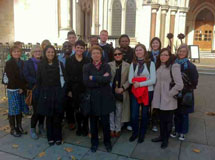 Pictured outside the Royal Courts of Justice are some Students from the Institute of Legal Secretaries and PAs and from AH Paralegal Training. Amanda Hamilton, our senior lecturer and Chief Executive of the National Association of Licensed Paralegals, is standing in the centre.
Our tour offers a great chance to see how the courts operate and learn some historical facts. Students are able to hear some cases and do some group assignments to further their learning. We receive great feedback from those who have attended, such as this example from Student Rachel Poole: 'Thank you for all your help over the Court Tour – so enjoyed it yesterday and learnt heaps from Amanda. And what amazing buildings – magnificent!'
If you have not attended yet, contact us at info@institutelegalsecretaries.com to find out when the next date is. It will really help you in your studies and your career.