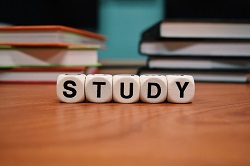 Returning to study after a period of time off can sometimes be a daunting task. People can be prevented from studying due to various reasons such as work commitments, health issues and looking after family. Whatever the reason, here is our advice to ease you into studying your course again with confidence:
Think ahead
The first thing to check is when you enrolled and the date of your deadline. ILSPA's courses must be completed within one year. You will need to assess how much time you have left and make sure that you set aside ample time each week for your studies so that you can complete the course within the timescale required. ILSPA offers a 3 month extension to students in extenuating circumstances. If you think you need additional time in which to complete your course, please contact us to apply for an extension.
Make a study timetable  
Get a planner or calendar and make yourself a study timetable. This is an easy and efficient way to organise the coming days, weeks and months. It will allow you to schedule all your usual commitments, as well as a set study routine. Sticking to a routine will guarantee that your coursework will be done. Create a routine that works best for you. Studying regularly is a great way to keep on top of things and keep the momentum going. If you have a lot more time on your hands now, take advantage of this and schedule as many hours as you can to complete your course.
Create the right environment
Your performance will depend on the study environment you create for yourself. Make sure you have a calm, quiet place where you can get on with your work without any distractions. Also ensure that you have everything you need for your study session on hand so that you don't have to leave the room during your study periods. If you live with other people, let them know that you are studying and you are not to be disturbed during that time.
Use all the resources available
We provide you with all the course material and resources you need online through our website. There are also student resources available in our Legal Secretary Journal. As well as study advice, you can access useful articles that will complement your studies, such as the latest legal issues and undertaking professional development. Make good use of all the resources available to you to ensure that you pass the course successfully and you are on top of the game.
Develop a network 
Developing a network is about finding the right support and connections during your studies. This can be reaching out to your Course Assessor, the ILSPA team, other legal professionals you know, or through social media such as LinkedIn to connect with fellow students or people in the sector you are studying in. If you are an evening class student, you have the advantage of connecting with others in the class and being able to support each other. Your tutor is also on hand for you.  
Returning to study won't feel overwhelming if you take the right steps. Follow our tips and you will soon be well ahead with your studies.
If you need further help or advice, please contact us on 0207 1009210 or at info@institutelegalsecretaries.com.