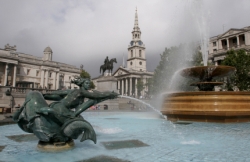 This is the final part of the series and I thought that I would end it with the most embarrassing thing that ever happened to me in my legal career. Before I do this, however, I just want to mention two incidents that are highlighted in my memory.
For a period in my career, when I and my family had moved down from London to Devon, in the West Country, I ran my own conveyancing practice, which became very successful – so successful that I incorporated into it a high street estate agency so that I could provide the two services under one roof: negotiate the sale and/or purchase of clients' properties and do the conveyancing for them, all for one composite fee.
As I say, it was very successful, and when the Administration of Justice Act brought into being the 'Licensed Conveyancer' I was one of the first to qualify under the transitional provisions. After a few months, however, the Council for Licensed Conveyancers brought out their professional practice rules, one of which was that as a Licensed Conveyancer, I could not also run any other type of business, so the estate agency side of things had to go; I sold it off. Then came the 1989 economic and property crash, when interest rates rose to 17% (yes – it's not a typing error!). The old adage came into being with a vengeance – "What goes up must come down" – and my conveyancing practice very quickly ceased to be viable. As no one knew how long the property slump would last, I decided to cast my net around. I saw an advert in the local news for a senior lecturer in law and management at South Devon College – I applied and was appointed. I started there in January 1990 and absolutely loved it! It was very hectic but very rewarding. I taught during the day and most evenings as well, teaching a variety of courses: The Council for Licensed Conveyancers Final, Higher Certificate in Paralegal Studies of The National Association of Paralegals, "A" Level Law, Motor Traders Law (Institute of Motor Traders), Business Law (BTEC Higher National Certificate and GNVQ Advanced), Law for Nursery Nurses (City and Guilds), Business Strategy and Strategic Management (HND Business and Finance, in conjunction with Plymouth University), Certificate in Supervisory Management and NVQ 3 in Supervisory Management (NEBSM), Diploma in Management (NEBSM) and NVQ 4 in Management, Foundation Care Management (City and Guilds), GCSE Business Studies and NVQ 3, and Certificate of Practice in Estate Agency (NAEA).
One day I was called into the office of the Head of Department and asked whether I would like to present a two-day seminar on Communication Skills for Business Managers in Slovakia! Well, I said yes – who wouldn't? There was only one immediate problem, and that was that apparently very few people in Slovakia spoke English and I certainly did not speak any Slovakian – talk about "Communication Skills for Business Managers" – I couldn't communicate in Slovakian and they couldn't communicate in English! Off to a good start, I thought! However, all was not lost because I was going to have a fluent translator going with me from the Slovakian Embassy in the UK, and she was absolutely marvellous. When I was conducting the seminar, she didn't wait for me to finish a few sentences before she translated – she actually translated as I spoke, which made such a difference and meant that I could do my song-and-dance routines without a break!
When we arrived in Slovakia (via the Vienna airport and thence by car to Bratislava, the capital) and got settled in at the hotel, I went for a short stroll around to try and get a feel for the place. The first thing that I noticed was that nobody smiled. Everyone, young and old, walked about with grim expressions on their faces. Slovakia was, of course, once part of Czechoslovakia, which in turn was part of the USSR until glasnost, and perhaps that accounted for it. Czechoslovakia then split in two, the Czech Republic to the east and Slovakia to the west. Apart from the people (whom I later found out were actually very nice), Bratislava was a very pretty town and, apparently, the country is very beautiful and has now turned into quite a popular tourist area.
I started my seminar the following day, and the centre was full – about 70 people attended, all middle managers from all types of businesses, and all very keen to learn the skills of the Western world, having come out of a communist regime. As part of the ice-breaking introduction I asked whether the Slovakians had a sense of humour, because, I said, I noticed that they all walked about with gloomy faces. I recounted that the English were noted for their sense of humour, particularly in taking the mickey out of others, especially politicians and people in authority – and finding something funny in people having accidents. At the time, the Irish jokes were very popular (my apologies if anyone reading this happens to be Irish), and I mentioned this. Someone called out for an example, so I told them the one about the Irishman who went into his pub with a big bandage around his head. "What's the matter with you, Paddy," said the bar keeper. "How did you do that?" "Oh," said Paddy, "I was ironing my shirt when the telephone rang" [at the same time putting my right hand up to my ear]. Everyone burst out laughing because, one told me, they tell the same kind of jokes about the Czechs! After that it went like a bomb! At the end of the seminar they gave me a lovely dark blue glass vase (Bratislava is known for its glass making) as a thank you.
It was an absolutely great two days, and we all got on wonderfully. Everything out there was so cheap as well – you could have a really nice meal in a really nice restaurant for the equivalent of about £1.50p. That was in 1995, but even so! I was taken to the Bratislava Opera House for a performance of Verdi's Rigoletto and noticed that the tickets cost only the equivalent of 35p! How much does it cost to go to the Royal Opera House in Covent Garden, £50 –- £100?
The other incident that is indelibly fixed in my memory occurred in the latter part of the 1990s after I had become General Secretary (CEO) of the National Association of Paralegals (now, of course, The National Association of Licensed Paralegals). The phone rang in my office one afternoon and a Mrs Armstrong (not her real name – altered for confidentiality) was put through, asking if we could help her. She told me that she had been sued by a firm of Solicitors in Exeter for non-payment of their bill for £3,000, for acting on her behalf in making a complaint to the Independent Police Complaints Commission. She was disputing the bill, and the hearing was to take place in the Small Claims Court the following week. She had tried several firms of Solicitors but none of them would take it on – possibly because the claimant was a large and prestigious local firm! Her story (to keep it brief) went something like this. Her marriage had broken down, her husband running off with another woman. One Sunday afternoon he came around to the matrimonial home to collect some of his things. They had a blazing row, and as a result he hit her; she had a bit of a fit and locked him in the bedroom. Coming out, she fell down the stairs. The husband telephoned the police from the bedroom extension, and the police duly arrived in a patrol car, one sergeant and one constable, and called for an ambulance. Mrs A was livid at the police being called, and the police were not at all nice to her; mind you, she was not very cooperative because she thought that she was the injured party in it all.
Anyway, it all ended up with the police sergeant arresting Mrs A, handcuffing her and conveying her to the police station; after a short time in a cell, she was released to find her own way back home! So she instructed this firm of Solicitors to make a complaint against the police sergeant. She was dealt with by a young, recently qualified Solicitor who told her that she would be charged on an hourly rate (which was £85 per hour), but that it was a relatively simple procedure and the total bill would not come to more than £500. The Solicitor took a comprehensive statement and told Mrs A that it would be typed up and sent to her for signature. A few days later, it arrived but was inaccurate in a number of places, so she sent it back with the necessary amendments. It was re-typed and sent back to her, but it was still not right. In fact, the statement was sent back and forward no less than five times before Mrs A was satisfied enough with it to sign it.
Not a good start, but things did not improve. After a few weeks she'd heard nothing further, so she tried phoning the Solicitor to see what the position was, but she found it difficult to get through and thought that it was because the Solicitor didn't want to speak to her. So she went around and managed to see her in person, only to be told that the complaint had been lodged but these things take time, and it could be several weeks before a decision was made by the Police Complaints Commission – so she waited a few further weeks but still heard nothing. Again she phoned and was told that there was no news and that they were still waiting – so she telephoned the Police Complaints Commission directly, only to be told that they had received no complaint! So she contacted the Senior Partner of the firm of Solicitors, who called her in to see him, apologised profusely and said that she must have misunderstood the position, which was that his associate was still trying to obtain statements from her doctor and from the ambulance crew who were called to the initial incident. He told her that he would take over the matter personally and would ensure that the complaint was submitted as quickly as possible. He did tell her, however, that as he was the Senior Partner in the firm, his hourly billing rate was higher than his associate's and was £175 per hour. He did write a letter to the Police Complaints Commission stating that they had been instructed and that a complaint would be filed, and he sent a copy of this letter to Mrs A. After another few weeks, still hearing nothing, she wrote directly to the Police Complaints Commission, saying that she was withdrawing her instructions to her Solicitors because of their incompetence, stating that it had taken them some four months to produce absolutely nothing.
She telephoned her Solicitors and told them what she had done, and apparently the Police Complaints Commission also sent to them a copy of the letter she had written to the commission. The result? The Solicitors sent her a bill for £3,000 for the work done – she refused to pay it, so they sued her.
I had no hesitation in saying that I would be delighted to represent her at the hearing. I applied for an adjournment, which was granted, so that a full discovery (as it was then called) could take place and so that I could file a detailed defence (as she had only written in denying that she owed the bill). I obtained a complete copy of the Solicitors' file and filed a detailed defence; a hearing date was given (to last two hours), and we all trooped off to court. The Solicitors were represented by counsel, no less! When I tell you that the hearing lasted, in fact, two days, you will get some flavour of it! I will never know why the Solicitors did not withdraw their claim, as it was obvious that they had been negligent. Some of the facts revealed were that the associate had no knowledge whatsoever as to how to lodge a complaint against the police and even charged for going down to the local police station to get a copy of their leaflet on how to do it. The associate gave as one of the reasons for the delays that she had asked time and time again for Mrs A to let her have the name and address of her doctor but was never given it, even though there was an attendance note in the file from one of Mrs A's earlier attendances with the name and address of the doctor on it! Also, it was apparent that no effort had been made to contact any witnesses until after Mrs A had complained to the Senior Partner, and that as there had been such a delay the witnesses could not really remember the event in any detail! I really enjoyed cross-examining the senior partner and the associate. I remember asking the Partner whether he had ever made such a complaint against the police before – answer, no – whether he undertook civil litigation – answer, no – whether he undertook criminal work – answer, no. And what then did he do? Answer, he dealt with planning law and property taxation!
At the end of the hearing, the lady district judge gave a scathing judgement against the claimants which took up about three pages. She dismissed the claim and then looked at me and smilingly said, "Would you like to say anything to me about costs?" Normally, in the Small Claims Court no costs are awarded against either party unless the court finds that the party involved had wasted the court's time in either making the claim or filing the defence, so I replied, "Indeed, Ma'am, I would!" I submitted that the claimants, being Solicitors, knew more than anyone that their conduct amounted to negligence and that accordingly the claim should never have been brought, or if it had, it should have been withdrawn as soon as it was contested. The judge agreed! So my client was awarded costs on the appropriate County Court scale, which after taxation (assessment of my bill by the court) came out at over £3,000. I was what you would call a 'happy bunny' (especially as counsel, on her way out, said to me, "Well done!"), as was my client!
So … what then was the most embarrassing thing that ever happened to me in my legal career? Well it happened in London, in about 1978. I was working for a large West End firm of Solicitors, in charge of their civil litigation department. At that time my wife and family were still in the West Country waiting until our property sold, and so I used to travel back every other weekend. The firm was acting for a friend of an elderly lady who had died in a nursing home. She had made a will leaving everything to our client, but she had a daughter who was not very pleased at this and so contested the will. The evidence was quite simple – our client used to call in to see the deceased two or three times a week; looked after all her personal matters, dealing with the appropriate authorities on her behalf; and undertook many acts of kindness for the deceased in her old age. On the other hand, the daughter hardly ever visited or contacted her mother in any other way.
The action came on for trial in the Chancery Division of the High Court of Justice in The Strand, London, and on this particular Friday was partly heard at four o'clock when the court rose, to continue on the following Monday. I had to hurry back to my office, tidy up there and then get to Paddington Station in time to catch my train down to Cornwall (a five-hour trip) – so it was a bit of a rush. My office was just off Oxford Circus, and as there is no Underground station in the immediate vicinity of the Law Courts but several buses that passed through Oxford Circus could be caught directly opposite the Court, I opted to catch a bus. I must confess that I am not and never have been a football fan, and so I did not realise that on the next day, Saturday, England was playing Scotland in some Cup final or other – so when the bus reached Trafalgar Square (a very busy junction), about halfway between the court and Oxford Circus, there was a severe traffic jam; I decided that instead of being held up there I would leave the bus and catch the Underground at Trafalgar Square Station.
Now I must mention, and this is important, that 1978 is a world away from 2013! In those days professional people dressed professionally, and the correct type of dress for the young Lawyer was a dark three-piece suit (i.e. with waistcoat), shirt with a stiff starched collar and tie, and brightly polished black shoes, carrying a briefcase and rolled umbrella and wearing a bowler hat – and that was me – 'jack the lad'.
To get to the tube station I had to walk across Trafalgar Square, which (and perhaps I should have hesitated at this) was full of drunken, loud-mouthed Scots in full fighting mood who had come down to London for the football at Wembley the following day. But, stupidly, I didn't hesitate – it didn't even enter my mind! So, halfway across the square, I was suddenly lifted bodily on high by several strapping Scots lads who ran, with me aloft, to the nearest of the two fountains in the square and threw me into it! I was totally submerged and only had the presence of mind, when going under, to hold my briefcase aloft to protect all the court papers and the files inside. As you can imagine, this time I was not a happy bunny – just the opposite! As I struggled out of the fountain, drenched to the skin, facing a sea of laughing and hooting faces, I shouted in anger, "What the bl**dy h**ll do you think you are doing?" To which someone in the front rank shouted back, "Ach the noo – canna ye no tak a joke?"
That was all bad enough, but my misery was just starting – I had to get back to the office! My only option was to take the tube train as intended, and so I did. Soaking wet. When I got on the train I stood just inside the door with a big puddle of water accumulating around my feet and everyone backing away from me and looking at me with expressions hovering between amusement and horror. When I got back to the office, the two receptionists collapsed in hysterical mirth and joy! It was far from funny at the time, but I can't help smiling to myself when I think of it.