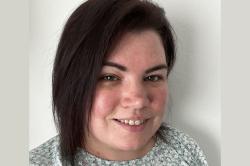 A legal career had always been on the cards for Sinead Owen, but when life took her on a different path during the second year of working towards her Law degree, it became clear that it might not be as set in stone. A few years down the line, the pandemic and a furlough gave Sinead the opportunity to look at how to re-enter the legal profession. Sinead used a difficult and insecure time to take the leap back into her dream legal role, and she has continued to take steps to progress ever since.
Can you tell us how you originally entered the legal profession?
I initially undertook a Law degree straight from sixth form. I have always had an interest in pursuing a legal career. However, I have not taken the traditional route, to say the least! During my second year of university, I had my son, and as a single parent, I undertook a role in the education/social care setting. In 2020, mid-pandemic and during a furlough, I decided to return to the legal profession and seek a role to enable me to begin my career once more!
What was it about being a Legal Secretary that interested you?
The initial benefit that comes to mind is job contentment. Legal Secretaries as support staff are the backbone of a legal office/department. Without good support staff, Solicitors are unable to do their job efficiently. Knowing the responsibility that comes with that provides me with job contentment. Due to the varied workload, no two days are the same. I can find myself drafting a Will one day and submitting an AP1 to the Land Registry the following. Progression is also a huge benefit, especially for me, and probably one of the main reasons I undertook this role. Being a Legal Secretary allows me to familiarise myself with the processes and procedures within the law and how legal offices work. Within this role, there is always the opportunity for job progression and to "work your way up the ladder", for which having that foundation of knowledge and skills assists immensely.
Why did you decide to do ILSPA's Legal Secretaries Diploma course?
I was applying for Legal Secretary roles to enable me to re-enter the legal profession; however, as it had been such a long time since I had attained my Law degree, I chose to enrol on the ILSPA's Legal Secretaries Diploma course as a means of familiarising myself once again with legal terms and processes. I found the course covered a wide range of legal areas, which also appealed to me. This, combined with the flexibility of distance learning at a reasonable cost, aided my decision to enrol.
How are you able to use the knowledge and skills you have gained through your studies in your role?
ILSPA's Legal Secretaries Diploma course prepared me with a basic foundation of knowledge of the processes and procedures required on a day-to-day basis across different areas of the law. Currently, I primarily assist in conveyancing and some private client matters. My studies prepared me in allowing me to develop a familiarity with a number of forms and documents, which I now utilise on a daily basis. The course also prepared me by developing my skills and knowledge in computer skills and how to make certain software programs, primarily Microsoft Word, work for me to format my documents and make my job easier!
What are your future career goals?
I am currently enrolled on the CILEX Advanced Paralegal course. My aim is to attain Chartered Legal Executive status with the practising rights within residential conveyancing. I have chosen the CILEX route, again, due to the flexibility of distance learning. I am able to fit studying in with both working full time and being a single parent to a ten-year-old – although it can still be challenging at times!
What advice would you give to new Legal Secretaries and PAs entering the profession?
Remember your worth! Many people believe a Legal Secretary or PA to be an entry-level profession; however, this is certainly not the case. Support staff are the backbone of a legal office/department. Take the time to hone your skills and take pride in your role. This will put you in good stead to succeed in your career.
If you are interested in studying ILSPA's Legal Secretaries Diploma course, like Sinead, please take a look at our website.