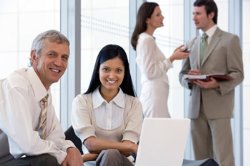 I joined the firm Trowers & Hamlins in 1998 to assist a partner in setting up the Bahrain office. We started with two rented desks from Ernst & Young. This was my first time working with lawyers and it was a real eye-opener. I had been working for the management consulting arm of KPMG, so I was used to working on lengthy documents, but not so used to the exacting standards required in a law firm. I now try to assist new secretaries and trainees to come to terms with what, in the non-legal world, would be treated as being particularly pedantic. I appreciate how the insertion of a comma can change the emphasis of a point, or inserting the word "reasonable" will allow a clause to be accepted by all parties to the contract.
10 years on having seen the Bahrain branch grow from 2 to 36 staff has been greatly rewarding. No two days are the same and now being the only person in the office having been here from the start, everyone comes and asks me questions such as "Where on earth are boxes kept?" "Which restaurant does this client prefer?" "Is there a law governing…?" to being given difficult documents to mark up. We now have an excellent support staff team that brings with it a great wealth of talents that I rely on constantly.
My day starts slightly later than the rest of the office to enable me to attain a good work-life balance, but this means that it ends later than all the rest of the support staff. When I arrive people are in full flow and I have already answered a couple of calls on my mobile. These may be from a client wanting to speak to the Resident Managing Partner (RMP), or indeed the RMP wanting to know which meetings he has or asking me to make changes to his schedule. The first thing I look at is my email, and its contents will largely shape my day, irrespective of what is on my to-do list. There may be queries from clients, who use me as a first port of call, or from suppliers wanting to sell us something, which, thankfully, I can pass on to the office manager.
Once I have dealt with my emails, I am at the beck and call of the RMP and I plan my day to fit around the work he will be giving me. After all, I am employed to make him more efficient and to enable him to use his time more profitably. If I know that he is marking up a document in manuscript for me to change on the computer, I will make sure that all those urgent queries are taken care of before starting on the document; these can include booking, changing or cancelling trips abroad. Having cleared the desk of jobs that need immediate attention, I am able to concentrate on the document I am given, which, I hope, results in a more accurate job done. I used to get annoyed when the document I had just amended came back with another raft of markups, some of them putting back in whole paragraphs or recapitalising words that I had just uncapitalised, but now I understand what the lawyer is trying to do with the document, so I do not take it as a slur on my work. I also now pre-empt changes and can assist the lawyer in getting the document 100% right. One of the most frustrating elements is seeing an agreement that has been signed by all the parties with glaring typos that have not been picked up, especially if it is a document I had prepared.
Lunchtimes are a rarity, but this does allow me the ability to leave early if there is nothing pressing. I try and organize "lunch & learn" sessions once a month with all the support staff, where we learn what one of the teams is doing at that moment or take part in team building exercises. The exercises usually take about 30 minutes and the last half is dedicated to ordering in lunch and letting off steam by chatting with each other. I feel that a number of small niggles people may have with each other are often smoothed over during these sessions.
The afternoons generally see the bulk of dictation and document amending, so not a lot to report here. The last half hour of my day, if there is not a rush on, is putting together a to-do list for the next day and marking off those jobs that I have actually managed to finish. This not only allows me to feel that I have achieved something that day, but also allows me to think about the next day clearly.
I leave the office at about 6:30 in the evening, and living in Bahrain, it means that I am home by 7:00, just in time for a relaxing glass of wine and some supper before studying for an hour or so.
Pia Irwin FILS, Fellowship Member
A few words of introducing the company I am employed by:
It is a highly charged and highly pressured office that deals in a highly specialised legal field. It is led by a senior legal person who does not believe in losing a single case that he is instructed to service. This legal field does not lend itself out to any form of errors of judgment or otherwise.
My position within the company is head of the legal department administration as the senior legal secretary, directly answerable to the senior legal manager.
A typical day is to attend a morning meeting with the senior legal manager (whilst enjoying a very large coffee). During this meeting, I am briefed by the manager as to the status of the previous day's court matters and make notes thereto, including diarising the various matters for further action and/or postponed court dates. I then receive all the digital dictated files, which I allocate to the legal typist. All such typing is monitored by me prior to such documentation going for signature. The typical work to be typed includes all notices of motion, filing notices and founding affidavits together with supporting affidavits. My duties also include liaising with the various clients to depose to such affidavits, and ensuring that all such documentation is paginated and then sent for serving on the opposing or respondent parties. After that, I ensure that such processes are filed with the registrars' offices at the various courts.
During my day, I also attend to the training of new and/or junior typists, attend to enquiries from our clients or other solicitors/attorneys and attend to appointments with barristers for our legal manager. I am also responsible for the court diary and ensuring that the relative files for court are in order, making them ready for the manager to attend court therewith the following day.
During all of this, I still find time to breathe and go to the little ladies' room when duty calls. I am not prepared to exchange my position for any other. It is my calling to serve others like our clients.
Su-Anne Webb AILS, Associate Member
I work under contract as a legal secretary with one of the Royal Boroughs of London in the Legal Services Department. I am the team secretary, but it is a small and friendly team with four solicitors, one clerk and myself.
I am not very happy about travelling during peak times, so, because I am able to work in a sort of 'flexi' environment, I like to be at my desk by 7:30 in the morning so I can leave at 16:00 in the afternoon.
My first task is, dare I say obviously, to get the kettle on and wash up the cups from yesterday, if I haven't done it the night before. With that out of the way, I generally start on any dictaphone tapes that have been left on my desk from the evening before. I am really looking forward to the introduction of a digital dictation system at the office so I don't have to wait for the tapes to come through. Having worked with such systems before, I really appreciate them. It is usually 08:00 before the team starts arriving, so I can get a bit of typing out of the way before the rush starts at 09:00. But the telephone usually starts ringing from about 08:00 as well. If any of the team are not at their desks, I usually pick up the phones until they come in. Sometimes I just take messages unless the query is something simple that I can deal with, like what time or at which court a case is being heard.
As a general rule, the bulk of my typing is audio typing of letters and documents. Some of my team, if I am snowed under, sometimes do their own typing, but I am trying to encourage the two who do type their own letters and documents to get down to more dictation because I do prefer to work under pressure. I find that my typing is more accurate and obviously that much quicker because I need to get finished. However, the odd days here and there when things quiet down and give me a chance to catch my breath are great, as long as they don't happen too often.
On occasion, I am also required to take minutes of meetings. Being able to take shorthand is a great help at these times. It started at the team meetings, but has escalated to attending client meetings to take notes as well, which I find really interesting. I am also required on occasion to book venues and make travel and refreshment arrangements for meetings.
I am hoping that I will be able to visit court with members of my team this year because we use several Advocates and I would really like to watch some of them in action and see more of how the courts work. I have missed the visits to court with the Institute and keep hoping that I will be able to fit it in next time. I definitely will this year!
When I was deciding which career to follow after school, I told my Dad that I didn't want to be 'just a secretary', and he told me then, and I have valued his words ever since, that I did not have to be 'just a secretary' because everyone has the choice to be either the best secretary one can be OR 'just a secretary'. It is really a choice that everyone can make about their career and I find that it works for me.
I really enjoy my work, I have a wonderful team and I enjoy being able to do the work well. I have always been very interested in legal work and most of my career has been as a stenographer with legal firms, although I have also worked in accounting and investment as a personal assistant. But I always tend to return to legal whenever I can.
Sheila Leathes AILS, Associate Member