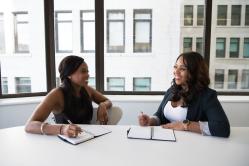 Everyone knows that attending a job interview is a nerve-racking experience – and it doesn't get easier with age!
The reason for the anxiety is that you are being put under a microscope. You are being scrutinised, and sometimes by several people, not just one.
To gain some insight and advice on this topic, our partner Simply Law spoke to our Patron, Amanda Hamilton. In this article, she shares her top tips and techniques for excelling in a Paralegal interview.
Going before a panel increases the anxiety ten-fold. You'll probably be worrying and asking yourself: do I look okay; will I be able to answer their questions; what if I'm so nervous that I can't even remember my own name?