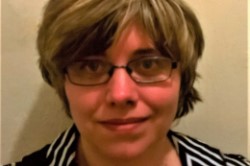 We are often asked whether you can study ILSPA's Legal Secretaries Diploma course with no Legal Secretary experience. The answer we always give is that the course is suitable for all levels of experience from beginners to experienced professionals. Tracey Jenkins, an ILSPA Student, decided to enrol on the course when she left her position in administration. Tracey had an interest in law but had no experience in a law firm. She passed the course with a distinction, achieving an incredible grade of 99%. We spoke to Tracey to find out about her background and how she found her studies.
Have you always been interested in law, and do you come from a legal background?
I have always had an interest in law in one way or another, though more as a side interest than anything more formal. As a teenager I enjoyed reading real-life crime books and watching detective shows, and these days I am very partial to watching a bit of 'Judge Judy', which, funnily enough, is the thing that initially sparked my interest in learning more about civil law! I spent eleven and a half years working as an Administrator in various settings within the Probation Service, which led to me picking up bits of knowledge around criminal law, but left a few years ago following a long period of uncertainty and staffing restructures.
What made you want to study to become a Legal Secretary?
I really enjoy working in administration and, whilst looking for a new role following my decision to leave the Probation Service, I noticed there seemed to be demand for Legal Secretaries. With my interest in law and my background in Administration, it seemed a good fit! I decided I wanted to gain a formal qualification in order to get a good grounding in civil law and improve my chances of finding a post. I also enjoy studying generally and am always on the lookout for courses I can do to gain or improve skills and knowledge, particularly around administration, so thought this new area would be a good one to learn more about.
How did you find your studies with ILSPA?
I really enjoyed my studies with ILSPA. Being able to study at home in my own time and at my own pace was ideal as it meant I could study for the qualification around my other obligations and interests. At times it was tough going – it's not always easy to keep motivated when you've had a long day at work and family and friends are calling on your time, but if it's something you want to do then you make the time to do it. I thought the course itself was really interesting and I learned a huge amount about a whole range of topics, which was great. The course materials and all of the additional resources on the website were fantastic and the level of service from my tutor and all the ILSPA staff I had dealings with were exceptional – everyone is so helpful and encouraging and you receive replies to your emails very promptly, which helps if you have a question about something you're working on. The other thing that impressed me was the continuing support available even after completing your studies, such as the online jobs board and CV help.
Do you have any top tips for other students studying the course?
Plan your time - at the start of each week, make a schedule which includes your study time and stick to it! I personally would recommend fitting in two or three shorter sessions per week rather than one long session - I found I could retain the information better this way and wasn't overloading myself. Read the guide to students provided by ILSPA before you start - it gives you a lot of great advice, including useful study tips. If you are unsure about anything, ask! There are lots of really helpful (not to mention patient) members of staff on hand, so make use of them. There is no such thing as a silly question and they are there to explain, guide and advise you when you need it.
What are your next steps in your legal career?
Due to current circumstances, I need to stay close to home and have a certain amount of flexibility, which has limited my job options somewhat as I live in a small town and Legal Secretary posts are few. At present I am working as an Administrator for a charity organisation, a different setting and one I am very much enjoying. I have, however, been looking at ILSPA's other courses and am considering doing one of these in order to keep my hand in and improve my knowledge and skills further so that I am in an even better position when I can start applying for Legal Secretary jobs in the future.
If you would like to receive advice about studying or help to secure employment, please do not hesitate to contact us.