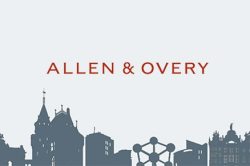 Michelle Gager from Career Legal had the opportunity to gain valuable insight into the world of job sharing at global law firm Allen & Overy. She interviewed Jane Templeman and Joanne Mackay, who started their careers as Legal PAs and now job share as Group Managers in Litigation & Tax. Jane and Joanne are a great inspiration to ILSPA's Students and Members. When Jane started at Allen & Overy as a Legal PA, she did not have any previous legal experience and learnt on the job. Joanne started the firm as a junior Legal PA and worked her way up.
Jane Templeman – Group Manager in Litigation and Tax at Allen & Overy
Jane is 40 years young, lives in Essex with her husband (Will) and three children (Harry, Charlie and Lily). Jane enjoys travelling and visited New York, Dubai and Spain last year. Jane works three days a week (and job shares with Jo). When she is not busy in the office, she juggles a busy home life – but wouldn't have it any other way!
How I start my day…
With a fresh coffee and a croissant!
I'm responsible for…
A team of over 50 Legal PAs, making sure they provide a high level of service.
How I got my job…
I started at A&O as a Senior Legal PA in 2003. Although I didn't have legal experience, I had gained supervisory experience from a previous position in the hotel and catering industry and PA experience from within the banking sector. After just over two years as a Senior Legal PA, providing Legal PA support to a team of lawyers as well as supervising a small team of PAs in the Corporate department, I moved across to cover a maternity leave in the Litigation department and have been a Group Manager ever since.
My typical day…
Every day in my role is different. From meeting with designers to approve designs and fabrics for breakout space in the office to conducting a performance management meeting, no two days are the same.
My most memorable work moment…
When asking a candidate at an interview to give me an example of where she had taken responsibility for something, she went into great detail about how she was responsible for watering the plants and was very proud of bringing one back to life!
The worst part of my job…
Being pulled in so many directions and feeling against the clock with so many balls to juggle all the time.
The best part of my job…
Working with my job share Jo! I feel so lucky to be able to work part time and whilst it can be very difficult managing the workload with someone else, Jo and I work very closely together and have a very open and honest relationship, and we never underestimate the importance of communication.
After work…
I go home to my husband, three children and a glass of chilled white wine.
My Plan B…
Take a moment to consider things from all perspectives and don't take things personally or too seriously!
Joanne Mackay – Group Manager in Litigation and Tax at Allen & Overy
Jo lives in Essex with her husband Gavin and two boys (William and Max). Despite not being a great fan of football, Jo spends most weekends watching her boys play (invariably in the rain). Jo's recent addition to her family is her French bulldog Lola, who, despite snoring incredibly loudly, is extremely cute!
How I start my day…
I go downstairs to see my dog Lola and give her lots of cuddles.
I'm responsible for…
A team of over 50 Legal PAs in the Litigation and Tax department. My role is very wide ranging, and I get involved in lots of projects and initiatives such as IT, space planning, recruitment and training.
How I got my job…
I joined A&O as a Trainee Legal PA 24 years ago. In that time, I have performed all the roles that I now manage, and I think this gives me a good insight into what works well and the challenges our team face.
My typical day…
Is very busy. My diary is always full up with meetings and reminders, and it's a fast-paced and quite stressful job. I work from a long to-do list which never gets cleared completely, but that is all part of the challenge.
My most memorable work moment…
Winning the X-Factor-style competition at the Litigation Christmas party as one of Dolly Parton's "mixtures", which is impressive as I didn't sing a single note because my friend hogged the microphone.
The worst part of my job…
Switching off from it.
The best part of my job…
I get to work with lots of colleagues who I am also fortunate to call my friends.
After work…
I go back to being a busy mum to two boys.
My Plan B…
I'm still on Plan A. Let's hope it doesn't fail.
Career Legal is celebrating its 26th successive year in legal recruiting for the legal community across London and throughout the UK. Specific legal divisions cover the full spectrum of legal recruitment on a permanent, contract and temporary basis. Career Legal deals with a range of Legal Secretary positions from junior to experienced. For more information, visit their website at www.careerlegal.co.uk.