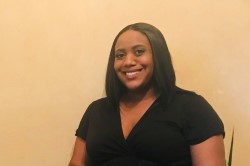 Jemina Blake studied ILSPA's Legal Secretaries Diploma back in 2012. After graduating she worked for one of the leading law firms in the South East and continued to study. She completed a Level 4 Diploma in Paralegal Studies with NALP and a Level 5 Diploma in Business Management. Now Jemina has used her impressive experience and qualifications to start her own business, My Legal Transcription. ILSPA spoke with Jemina about what initially interested her about the law, why she chose to become a Legal Secretary and how she turned that into a business of her own.
How did you become interested in working within the legal profession?
I first became interested in working within the legal profession when I was 18 years old. I was a bit unsure about what I wanted to do at that age and had many different interests, but it all started with a summons to do jury service when I reached 18. So I completed two weeks of jury service at Snaresbrook Crown Court. It was the first time I had ever stepped into a court, and the experience changed my life and really inspired me. I was able to talk to Barristers and Court Clerks, people I wouldn't usually run into necessarily in my usual daily life. I was able to ask questions about the legal world and what I needed to study. I was the youngest juror there in the court. After I completed my jury service I knew exactly what I wanted to do with my life, and that was to have a career in the legal profession.
What was your background before working as a Legal Secretary?
Before working as a Legal Secretary, I studied Health and Social Care and worked in various roles – in a school as an administrator, for the council and in a couple of accounts assistant roles. My background before law was mainly administrative.
Why did you decide to complete a qualification with ILSPA, and how did you find your studies? 
I knew I wanted a career in law, and to break into the legal profession I would need to gain a legal qualification and that would be my first step. I did some research and then I came across the ILSPA website. I looked at the qualifications on offer and expressed my interest. I remember enrolling on the ILSPA evening classes that would be held at Regent's University in London. I was very excited because I was about to embark on the first steps towards my legal career.
I really enjoyed my studies with ILSPA and I learned a wide range of useful legal knowledge, which helped prepare me for a Legal Secretary role. The course was very much to the point, filled with all the knowledge you would need to work as a Legal Secretary, with real-life scenarios you would come across working in a law firm. I feel that this course shaped me into the Legal Secretary I am today.
Tell us about your career since the Legal Secretaries Diploma.
Once I had completed the Legal Secretaries Diploma, it gave me the confidence to start looking for Legal Secretarial roles. I started working as a Legal Secretary for the law firm Blaser Mills, in the family law/child law department, and I loved it. I was able to put all that I had learned from the course into practice and utilise my skills to the fullest. Over the years I have worked for a few high-street law firms and I gained criminal law experience also.
What advice would you give to a new Legal Secretary just starting their career?
My advice to a new Legal Secretary would be to be confident within yourself in what you have learned and to remember that there are always new things to learn. You have to be open-minded. You will encounter challenges along the way but don't let that deter you from your career – it's never straightforward and easy, but it's the only way you will learn. Experience only comes with time, patience and learning from mistakes.
What do you think is the most important skill for a Legal Secretary to have?
From my experience, I think the most important skill for a Legal Secretary is to be accurate. Being able to type fast and accurately is an important skill to have as there will be strict deadlines within a law firm and, documents that need to be typed up in a short space of time. Also being well organised with your workload and learning to prioritise your work, is important.
What made you want to start your own legal transcription company? 
The Legal Secretaries Diploma opened a whole window of new opportunities for me to learn, so my studies didn't stop there. I went on to study a Level 4 Diploma in Paralegal Studies with The National Association of Licenced Paralegals (NALP) and after that I studied a Level 5 Diploma in Business Management. I learned more about how businesses work, how to run a business and all the things that go into building a business, so I decided to start my own legal transcription company and approach law firms and other office professionals directly. It gives me a little bit more freedom to branch out and network and to assist a wider range of firms and companies with their transcription needs.
Thank you to Jemina for taking the time to speak to us and answer our questions. It is always wonderful to catch up with our former students and to hear about how their careers have progressed.
If you are interested in studying to become a Legal Secretary, please take a look at our course page. Students receive one year's free Membership as part of their enrolment, which includes guidance to secure employment and a CV help service. To find out more about our Membership Benefits and how we can help you with your career, take a look at our Membership page.
You can find out more about My Legal Transcription by visiting the website.