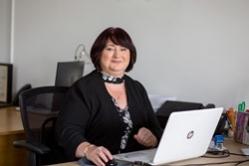 Karen is a highly accomplished Legal Secretary/PA with over 32 years' experience in the legal profession. She has been a Member of the Institute of Legal Secretaries and PAs since 2009 and was awarded the status of Lifelong Fellow of the Institute in 2016. Karen currently works as a Legal Assistant/PA for Roche Legal, an acclaimed boutique firm of private client solicitors based in York.
We recently spoke to Karen about her career, current position and what advice she would give to other Legal Secretaries just starting out in the field.
What does your role involve at Roche Legal?
My main job function is a PA to the Director/Owner of the company, but I also have roles as Legal Assistant and Office Administrator as well as fee earning duties as the need arises. Roche Legal is a boutique firm of private client solicitors that very much embraces using new technology within the legal profession. In this small but growing firm, I am involved in all aspects of the practice – for example, applications for probate, administration of estates, and drafting Wills and Lasting Powers of Attorney to name a few, together with being the first point of contact, devising and running systems, screening calls and enquiries, and liaising with clients, staff and other professionals. So, as you can see, my role is a very varied one.
Has your role evolved since you were awarded Lifetime Membership with the ILSPA?
My work to obtain the Fellowship of the ILSPA was initiated personally some years ago, and the subsequent Lifetime Membership arose from this. This varied course of work gave me a very good grounding in a diverse range of legal subjects, and consequently I have been able to move between employers and departments quite freely. My latest role is now in private client and is something I really enjoy, as my primary motivation is and always has been helping people in times of need. So, my role over time has transitioned, and the ILSPA has enabled me to do that and find the position I have always wanted to do.
What is the best part of your role?
I really enjoy working directly with clients to help and guide them through the legal system and to give support and understanding where required. I also enjoy drafting work and performing research for upcoming projects/events.
How did you come to work in the legal profession?
My first legal role was in the late 1970s as a Legal Accounts Clerk in a large commercial company. I have always found the legal profession interesting and wanted to pursue it further. My first opportunity to work in a legal firm was working for a Senior Partner, so in my early years I covered many aspects of legal work. This was in the 1980s, when solicitors dealt with many aspects of the legal profession rather than specialising in any one subject. That first Senior Partner gave me the best start in true legal work. For a period, I also worked in Scotland and there learnt about Scottish law. I was involved in environmental law, which included research into windfarms and wildlife around the Moray Firth and liaising with large estates and their management teams.
In your experience, what skills are highly valued in a Legal Secretary?
A Legal Secretary is the interface between the client and the Solicitor and as such must be able to show the client that they are fully engaged with the client's requirements. In my current field of private client, this means acting with care and compassion as well as giving the client your full attention, maintaining a meaningful dialogue and acting in a timely manner.
If there was one piece of advice you would give someone who has just entered the profession, what would it be?
Be SMART: Sincere, Methodical, Accurate, Resourceful and Timely, but also don't forget to give yourself some time too.
We would like to thank Karen for taking the time to speak with us. She is a great inspiration for ILSPA's Students and Members. We wish her the very best in her career. If you are interested in becoming a lifelong Member of the Institute of Legal Secretaries and PAs, you can find out more information on the Membership page of our website.