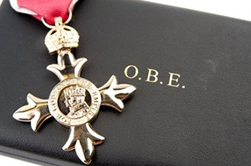 This New Year's honours list brought with it an inspiring and encouraging tale for our Members and for all those starting out in the legal field. Janet Cooper, partner and co-founder of the Yorkshire-based niche law firm Tapestry Compliance LLP, who began her career as a secretary before graduating in law, has been appointed Officer of the British Empire (OBE). Her services to gender equality, women's empowerment and employee share ownership have gained her overwhelming recognition within her field, elevating her to be regarded amongst Britain's most invaluable members of society.
Janet's career progressed very successfully from her opening role as a secretary. Just six years after qualifying, Janet was made one of the first female partners in the multinational law firm Linklaters. This worldwide company is part of the illustrious "Magic Circle", a term used to describe the five leading law firms in the UK. Janet created innovative changes within this law firm, developing and leading their employee share plan and executive remuneration practice for 20 years and offering her team agile working arrangements. Her agile working plans were a first at the time, considering each employee's needs and allowing them to work from home and also part-time. Under her leadership, the team was recognised by both legal directories, Legal 500 and Chambers, as the number one practice in the area for 11 consecutive years. 
Janet's speciality lies in developing and advising on executive and employee share plans. Janet has shown a tremendous amount of commitment to her belief that employees should be given the opportunity to share in the companies that they have helped to strengthen and build. She developed the LTIP (long term incentive plan) for BP in the 1990s, allowing employees and executives to be rewarded if they are shown to have contributed to increasing the company's shareholder value; the LTIP has now been implemented by companies worldwide. Dedicated to advocating the value of employee share plans, she was one of the founders of ProShare, a non-profit organisation that is currently the leading voice in the UK for the promotion of employee share ownership. She also helped co-found the Global Equity Organisation, also not-for-profit, which endeavours to advance the knowledge of equity compensation worldwide, and she has held a seat on the board ever since.
Janet has a charitable nature, and one of her main passions is her involvement with human rights, particularly the rights of women. Janet has been involved with several human rights organisations over the years, acting for six years as Vice President and Trustee of UNWomen, the United Nation's entity for gender equality, and also serving on the board of GAPS (Gender Action for Peace and Security), which ensures that women are included in the process of conflict resolution. Janet is a keen advocator of equal rights for women within the workplace and has made significant contributions within this field. Roehampton University, known for being the longest-serving provider of women's higher education in the UK, is also proud to call Janet a member of their board. Paul O'Prey, Vice-Chancellor at the University of Roehampton, commented, "I am delighted that Janet's many achievements have been recognised in this way. No one deserves it more. The University is very lucky, and very proud, to have her as a Trustee and a Governor – she makes a terrific contribution to the life of the University and to the many other causes which she supports so generously with her time and expertise."
Janet's primary focus these days is the niche law firm she co-founded, Tapestry Compliance LLP, which specialises in HR advice and has a network of over 100 firms internationally. Tapestry have made a big impression since they started five years ago, winning them a wealth of different industry awards and securing them a position alongside some of the longest-established law firms in the UK. In the five years they have been running, Tapestry hasn't had a single lawyer leave them. This fact is a testament to the progressive and forward-thinking nature of Janet's flexible working plan, showing how developing a work plan that suits each individual makes great business sense. Tapestry have provided their expertise to some of the most recognised and leading companies in the world, and are able to include Goldman Sachs, Sony, HSBC, Dell, Morgan Stanley and Aviva in their past client list. Chambers, another previous client, have written that "Janet Cooper can find a solution to even the most challenging and complex of problems."
Just think, a decade or two from now, with the right passion and determination, you too could be receiving an invitation from Buckingham Palace!