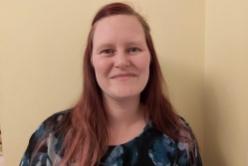 Vicky Cons was working as a full-time Team Manager at Tesco when she decided to take the plunge and begin her studies to become a Legal Secretary. Little did she know that soon after starting her studies the world would go into lockdown. Clearly not one to be deterred, Vicky continued to work full time as a key worker throughout the pandemic. She completed ILSPA's Legal Secretaries Diploma with a distinction and secured her first Legal Secretary role while still waiting for her results.
Vicky kindly took the time to speak to ILSPA about how she found her studies and looking for work during the pandemic. She also provided some great advice for Students who plan to look for work before they have completed the course.
What were you doing before studying with ILSPA?
Before and during studying with ILSPA, I worked at Tesco as a Team Manager full time.
What was it about being a Legal Secretary that interested you, and why did you decide to study ILSPA's Legal Secretaries Diploma?
I chose to study with ILSPA as it was flexible around work and I needed something that would challenge me in my free time. Law has always interested me, and the Legal Secretary course seemed like a good starting point for this.
You secured your role as an Assistant working in the Wills and Probate department of a law firm whilst waiting for your results. What advice would you give to Students who wish to start their job search before the end of the course?
My advice for anyone looking to change career is make sure your CV is up to date. I included that I was currently studying this course, which I feel shows I can apply myself and am willing to learn.
When you updated your CV, which transferable skills did you make an effort to highlight, from both your previous employment and your qualifications?
The transferable skills I highlighted on my CV from both my previous job and the course were planning/organisation and attention to detail.
How, if at all, did you find the pandemic affected your job search?
I found the COVID-19 pandemic made it harder to study, as due to working in retail and being a key worker, I had less time to study. I do not feel it hindered my job search though, as having updated my CV, I emailed it out and was fortunate to get an interview at a firm.
How did the interview process differ from previous interviews you have attended, and how did you prepare for this?
In regard to previous interviews, the biggest difference was I had to sit an IT test. This was to check my knowledge of IT and attention to detail with the documents I was asked to re-create. To prepare for the interview, I made myself a list of questions that I wanted to ask if they were not covered in the interview. This helped, so I did not worry about forgetting anything. I also looked on the company's website, so I knew a small amount about the company and the ladies I was having the interview with (I found a page on the website with the individuals' profiles).
What are your goals for the future?
My goals for the future currently are to settle into the new role. I have spent 16 years in retail, so this is a very big change from what I am used to. From there, I will look to study the Advanced Wills and Probate Diploma so I have a better understanding of the department I will be working in. There is training available within the firm, provided by them, so once I get my feet on the ground, I will explore this and see where I want my career to take me next.
ILSPA would like to thank Vicky for taking the time to speak to us about her studies and her career. We wish her all the best in her new role!
Whether you are currently working as a Legal Secretary, are a Law Student or come from a completely different profession, like Vicky, ILSPA's Legal Secretaries Diploma will help you gain excellent legal knowledge and skills. Find out more here.