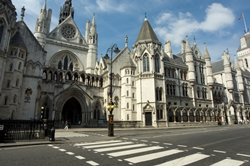 When most people think of paying a visit to a court, it is usually either associated with a wrongdoing, for example, criminal activity – or, perhaps, as part of an educational field trip. Yet, the recent announcement from tourist review site TripAdvisor, recognising the UK Supreme Court with an Award of Excellence, is encouraging those outside these typical visitors to enjoy a day at the courts. There are also great reviews about the Royal Courts of Justice in the Strand.
ILSPA Students are invited to join us on one of our monthly tours of the Royal Courts of Justice. This daylong visit is designed to build your understanding of our legal system, and helps to put your learning material into perspective. The tour also offers a great chance to see how the courts operate and to learn some historical facts. You will be able to sit in on cases and do some group assignments to aid your learning. After the tour, you can take some time to admire the cathedral-like premises, wander the halls whilst taking in its historical significance or grab a cup of coffee at one of the cafés located inside.
Whether history, architecture or a desire to keep up with current happenings is at the heart of one's visit, the courts can cater to a variety of interests, making it an excellent choice for a family or group outing of all ages. This is because an excursion of this kind offers more than just a typical educational experience – it makes visiting a relaxing, unrushed, unique experience, and without the overwhelming crowds that other tourist attractions in or around the Westminster area may attract.
For those of you who are unable to attend the ILSPA tour, you can still visit the courts at your leisure. You can explore the Great Hall, take a look at the documents concerning the Guy Fawkes trial in 1605 and take in exhibitions. Some of the highlights cover topics such as legal costumes, art, and facts and history about some of the Royal Courts of Justice's most infamous cases. But if you're really lucky and you happen to be there when it's in session, you might even catch a glimpse of the courts in action. If the courts aren't in session, then you'll be free to enter each of the courtrooms, which will allow you to take in the true magnificence of this building. 
No matter what draws you to visit, there is something for everyone at the Royal Courts of Justice. It's no longer just about education, but rather about sharing an experience. And there's even a kids trail to provide entertainment for the youngest visitors! 
If you still aren't convinced, spend a few moments looking at what previous visitors have posted on TripAdvisor. Accolades have come from visitors of all ages and from all parts of the world – not just within the UK. They talk of the historical significance, the ease of wandering the building's halls and the rich architecture. But don't just take their word for it – come and see for yourself!