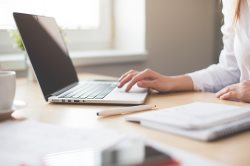 Course providers will often use different methods to assess a student's understanding of the course they are studying. Some courses may have exams, whereas others will use coursework. Practical Assessments are a type of coursework, and this article aims to answer some of the most common questions about them.
ILSPA's Legal Secretaries Diploma is a vocational qualification, and as such it aims to teach the skills and knowledge required to allow graduates to enter employment upon completion of the course. The coursework is therefore made up of achievement tests to assess your knowledge and Practical Assessments to assess your application of this knowledge to a specific set of documents.
What are Practical Assessments?
Practical Assessments are a form of coursework which allow course providers to assess the practical skills of students in their chosen area of study. Practical Assessments are often found within vocational qualifications as they provide students with practical experience related to the profession being studied. Not only do Practical Assessments allow course providers to see how well instructions have been followed, they also reflect the student's attention to detail and how well they are able to apply the knowledge gained from the course to a practical situation.
Why are they useful?
Practical Assessments are useful for a variety of reasons. The Practical Assessments in the Legal Secretaries Diploma will help students improve their word processing skills as well as their attention to detail and their level of accuracy.
Practical Assessments also help students become familiar with the practical procedures of working as a Legal Secretary. They give you the opportunity to gain experience by understanding and producing the legal documents, forms and correspondence you will come across in your career. As these are the exact documents used in the legal profession, they give students experience of the role prior to gaining employment. Not only does this mean that you can hit the ground running once you have gained your first role, but it is also a useful tool for gaining a position in the first place. We recommend that our graduates take their portfolio of completed assessments along to any interviews they are attending. Many of our graduates have said that they feel that it has been a contributing factor to them being offered the position.
Where to find them
When studying ILSPA's Legal Secretaries Diploma, students will complete Practical Assessments in units 3, 4, 5 and 6, where they will be required to complete a range of legal documents, forms and correspondence by following specific instructions.