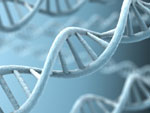 DNA Proves a Hanged Man Was Innocent
'It is one of the most notorious cases in British legal history, the story of an apparently mild-mannered doctor who poisoned and dismembered his showgirl wife, then fled across the Atlantic with his young lover – only to be caught after a sharp-eyed captain recognized him from the newspaper,' writes Martin Hodgson in The Guardian of 17th October 2007.
Hodgson tells the story thus:
Dr Hawley Crippen was hanged in 1910, after an Old Bailey jury took just 27 minutes to find him guilty of murdering his wife, Cora, who had vanished earlier that year.
Nearly a century later, research appears to show that the evidence which sent Crippen to the gallows was mistaken: the human remains discovered under his London house could not be those of Cora.
Working from a sample kept at the museum of the Royal London Hospital Archives, a team of American forensic scientists compared mitochondrial DNA from the remains presented at the trial with samples taken from Cora's surviving relatives. The result was conclusive, said Dr David Foran, the head of forensic science programme at Michigan State University. "The body cannot be Cora Crippen, we're certain of that," he said.