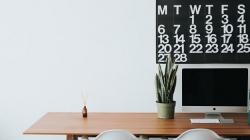 It is looking increasingly likely that many of us will be working from home until at least Spring 2021. What's more, 93% of respondents who took part in our recent working from home survey agree that they would like the opportunity to regularly work remotely once office work resumes.
Although working from the sofa or in our bedrooms was great in the beginning, the novelty of this is rapidly wearing off. We're starting to realise that we need a working set-up with more longevity in order to increase productivity, improve comfort and avoid injury when working from home. With remote working becoming the new norm, it's time to look at how we can improve our home workspace in order to work more effectively from home.
TotallyLegal has come up with four tips to help you optimise your home workspace.
1.Invest in your physical set-up
2. Have a designated workspace
3. Purchase a webcam
4. Upgrade your Wi-Fi
Invest in your physical set-up