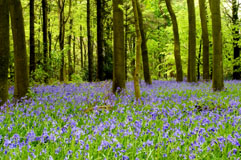 On 7 June 2011, the UK government published 'The Natural Choice' – a white paper that outlines how the natural environment is going to be protected, restored and improved over the next 50 years.
This is the first white paper that has been published in 20 years, and it is directly linked to the findings made in the National Ecosystem Assessment that strongly proved how the natural environment must be looked after. It also acts on information found in a report on England's wildlife sites called 'Making Space for Nature' by Professor John Lawton.
Environment Secretary Caroline Spelman said:
"The natural environment matters to us all – not just because it makes us feel good when we stumble across a bluebell wood or spot a pair of goldfinches, but because we are now all able to see the terrible price we would pay if we lost what we have or neglected to care for it. Nature belongs to us all, and we've all got a vested interest in protecting it.
"That's why the true value of nature should be built in to the decisions we make – as individuals, organisations, businesses and governments – so that we become the first generation to leave the environment in a better condition than we found it. This is what "The Natural Choice" will help us all achieve."
The Institute of Legal Secretaries and PAs is a business club Member of the WWF – The World Wildlife Fund, which is the leading independent environmental organisation. It addresses global threats to people and nature, such as climate change, the peril to endangered species and habitats, and the unsustainable consumption of the world's natural resources. It does this by influencing how governments, businesses and people think, learn and act in relation to the world around us, and by working with local communities to improve their livelihoods and the environment upon which we all depend.
WWF's head of public affairs, Margaret Ounsley, stated:
"The government's new white paper on the natural environment is urgently needed if we're to address the myriad threats to the UK's biodiversity, including climate change, habitat loss and badly planned development.
"As the government's first effort to tackle these issues, it's both ambitious and welcome. But there's plenty to do if the paper's vision is to become a reality. It will stand or fall on whether departments across government fully get behind it in a coordinated and consistent way and whether local communities respond to the call to action.
"We were also encouraged just last week to see the government putting its weight behind a UK National Ecosystem Assessment, a brilliant initiative that will provide in-depth scientific analysis of the impact people are having on the natural world over time. We hope the government will now be using this information to make policy choices."
You can read a copy of 'The Natural Choice' here: http://www.archive.defra.gov.uk/environment/natural/documents/newp-white-paper-110607.pdf