Major changes coming to a legal practice near you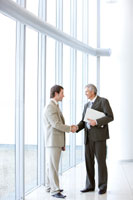 On 30th October 2007 The Legal Services Act came into force. Outside of legal circles there is very little understanding about the effect of this new law, but it is nothing short of revolutionary.
The most momentous change is that law firms will now be able to go into business with non-lawyers. This change means that you can expect to see other professionals such as accountants, office managers, financial advisors and estate agents becoming partners in legal firms. These types of firms are described as Legal Disciplinary Practices (LDP) and many existing firms are considering changing from being 100% solicitor-owned and operated to include other business partners. This could even mean a co-operative legal firm where the business is partially owned by the firms' staff.
As well as the possibility of a firm gaining expertise by sharing ownership with other professionals, they will also be able to in effect 'merge' with other businesses and form multidisciplinary businesses (described as Alternative Business Structures). This means that organisations that have no previous connection with the law could now be able to provide legal services directly to the public. You may very well see legal services being provided by your local supermarket (the much touted phrase 'Tesco Law'), bank, building society or estate agent.
You may notice that if you are seeking legal services in the future there should be greater choice and easier access as a consumer. In the same way that the introduction of competition in the area of conveyancing (in the form of licensed conveyancers in the 1980s) drastically reduced the cost of buying and selling a property, new competition to other areas of legal services may modernise the way legal advice is given. Some areas of law such as conveyancing, will writing and straightforward personal injury claims, can be provided for a relatively low cost provided there is a high volume of work.
What will these changes mean to Legal Secretaries and PAs?
You may have already noticed that legal firms have been merging and/or expanding as they try to prepare for the changes. This process has been happening over a number of years but it is now likely to accelerate. By increasing in size there will be more opportunities to obtain a position and, once hired internal promotion is more probable. If you have the ability, if you are willing to embrace new ways of working and can take on additional duties and responsibilities, you can literally aspire to owning and running the firm. Even if you are not seeking to be the managing partner of a legal firm, solicitors will inevitably have to ensure that they actively promote better training, development and working conditions for all staff (not just the solicitors in the firm) if they hope to be competitive. The most successful firms in recent years have invested heavily in training and I.T. to ensure that all their staff are working to their full potential. Provided you are willing and can work efficiently there is nothing stopping you from thriving in this new legal environment.