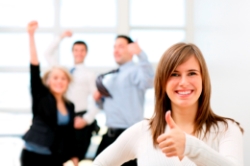 Membership Level
ILSPA offers four levels of Membership dependent on your qualifications and experience. If you have recently qualified with ILSPA or you have been working as a Legal Secretary for a few years since you first applied for Membership, you can upgrade your Membership level.
Those who have passed the Legal Secretaries Diploma course are eligible for Affiliate Membership, which shows employers that you are a qualified Legal Secretary. Keep this in mind when renewing your Membership with us. Once renewed, you will receive an attractive Affiliate Membership certificate, which you can show to employers or put in a frame on the wall.
If you are currently looking for work and have registered on our Legal Secretary Jobs Board, make sure that you update your Membership level within your profile so that recruiters can see what stage you are at in your career. Recruiters will be looking for newly qualified as well as experienced Legal Secretaries.