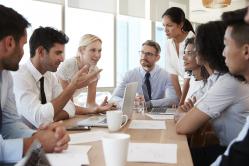 We would like to highlight five key skills you can develop to ensure success in your career. Some of these skills are not exclusive to law, and you may already possess strengths in these areas. If you identify a skill that you need to work on, consider following some of the tips as a starting point for creating your own personal development plan.
Working in a team
Being able to work as part of a team is essential to any job. Within a team, basic skills of respect and empathy are essential. You will need to have the ability to listen and take on board the opinions and advice of others. If your colleagues are able to work well with you, you create a positive and trustworthy reputation for yourself. This can enable you to progress in your career not only through the confidence you gain but also in how you are viewed by your employer.
While many professionals are working from home at the moment, it is still possible for you to make a positive contribution to your team remotely. Every interaction you have with your colleagues, whether it is via email, telephone or Zoom, can lead to a stronger relationship with them.
Developing initiative
While teamwork is fundamental to success, it is also essential that you be decisive when needed. As a Legal Secretary, you will be given various duties and responsibilities. One responsibility is to develop a reasonable degree of initiative. This does not mean that you must solve everything on your own, but it is important to take ownership once you have been shown how to deal with an issue. How much independence you should exert is a matter of balancing getting the job done with knowing when it is right to ask for help. 
Thinking about a time when you had to make a decision on your own can improve your confidence. Even if you have made a wrong decision in the past, you can learn from the experience and think about how you could have done things differently.
Working under pressure
When working in a busy legal department, you will be expected to turn around large amounts of work under tight deadlines. Being able to stay calm and focused will enable you to work efficiently and get everything done.
You can practice setting yourself your own deadlines. Make your deadline earlier than the official one to give you some time to deal with issues that might crop up. You also need to make sure that you are planning and prioritising correctly, so the most important tasks are done first. Ask for advice from others at the firm as to how they plan their work, and consider developing your own system to get things done.
Paying attention to detail
This skill can go hand in hand with working under pressure. Lawyers will expect work to be done quickly and done right. Legal work often involves producing documents that rely on you having excellent attention to detail. All the details need to be correct. Typos and grammatical errors will undermine your work and the confidence others have in you. They will also affect the reputation of your firm.
Always take time to pay attention to the instructions you have been given, and carefully proofread your work. If you are under pressure, the quality of your work could be negatively affected. So, be prepared to make it known when you are in a situation where your work is being rushed. It is better to let your seniors know so they can decide whether a deadline should be moved or work reallocated.
Understanding yourself
Taking the time to assess your strengths and weaknesses can be really beneficial. You can then be confident in what you are good at and take time to develop the areas in which you need improvement. The more knowledge and experience you can gain in those areas, the better you will be at advancing your skills.
If you have studied a course through ILSPA, working on building your skills is the next step in your professional development. Please take a look at the wealth of helpful resources in the professional development section of our Legal Secretary Journal. You can also perform a search for specific skills you need to improve on.