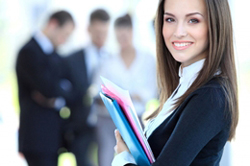 Excellence is about delivering work of quality and doing the best you can do at every moment. Success naturally follows for those who are prepared to go that extra mile in their job and are willing to devote their time and effort to bettering themselves. Excellence is brought about by doing things better than they have been done before, and only being satisfied with the very best from yourself.
In the past couple of decades, it has been mentioned that Legal Secretaries and PAs could be replaced by technology, but that has not been the case – they have adapted to the environment around them, learnt new skills and proved how they can successfully deal with changes. The role of the Secretary and PA has in fact become easier with the aid of technology, enabling more to be achieved within the workplace. More opportunities are available now, with responsibilities such as marketing and managerial tasks being passed over to those who have a high standard of work and show great competence.
The start of 2017 is the perfect time to think about how you are performing in your role and whether there are any areas in which you could improve upon. ILSPA Members are encouraged to take part in our Continuing Professional Development Programme. It is designed to recognise the progression of Legal Secretaries and PAs during their careers and support those who accomplish their goals. CPD enhances your professional skills and, therefore, the quality of your work.
If you would like to advance your knowledge and skills within your role by taking a course, we highly recommend Reed Learning courses in areas such as minute taking, time management, business writing skills, effective communication and more. ILSPA also offers Typing Skills, Microsoft Office and Single Subject Legal Courses for those needing to advance in these areas. However, there are many more ways to undertake CPD. For more information on our Continuing Professional Development programme, please email us at info@institutelegalsecretaries.com.
Today's Legal Secretaries and PAs have a range of excellent skills – mastering technology, communicating effectively, managing workloads competently and, most importantly, have the willingness to learn, grow and take on challenges. Successful Legal Secretaries and PAs realise that they are key figures in a firm's activities and their contribution is vital.
You can have a winning career in 2017 and beyond by continually bettering yourself and producing excellence in your work. Many congratulations for being part of a profession which is well-respected and constantly evolving.