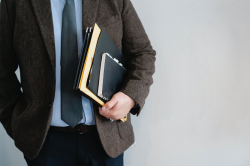 One of the best things about having a Legal Secretary or PA career is that it is a varied and exciting role. It requires a range of skills and attributes and because of this, the role suits a variety of different people. Knowledge of law and legal procedures, being computer literate and an understanding of law firm procedures are all excellent skills to have, but what are the foundations of a good Legal Secretary? What natural attributes and skills can someone bring to the role that haven't been gained through work experience?
Discretion
Working in a law firm requires staff to handle confidential information. This can be in the form of recorded data or information shared in meetings. There are rules and laws that must be followed when handling this information but alongside these rules, discretion is key.   
Attention to detail
Legal documents and court forms must be completed correctly as mistakes can have serious consequences. Through either studying or working, you will learn the process of completing these tasks to a high standard, but if you are already have a meticulous nature, you will have an advantage.
Organisation
Being organised is a beneficial skill to have in your personal and professional world. It can make many different aspects of your life easier. This is especially true in busy firms where support staff assist multiple fee earners or even departments. If you are an organised person, you are likely to find you will hit the ground running.
People skills
Legal Secretaries and PAs deal with many people. You will be interacting with clients, colleagues, fee earners and other professionals on a daily basis, not forgetting that you will be dealing with people in vulnerable and sensitive situations. Legal Secretaries and PAs are often the face of the firm so good people skills are a must.         
Calmness
Law firms are busy places often full of hustle and bustle. Legal Secretaries and PAs benefit from having a calm persona and being able to think clearly under pressure. A calm manner shows professionalism and puts people at ease, whether they are your colleagues or clients.
Time management
Punctuality is important for all people in the workplace, but time management extends beyond simple timekeeping. Being able to manage your time effectively makes you efficient and productive. It avoids stress and ensures work can be done well and within deadlines. 
Adaptability
Legal Secretaries and PAs need to be adaptable to meet the ever-changing needs of their fee earners. Sometimes you will be required to deal with urgent matters or provide ad-hoc assistance when needed. You might also have to work across multiple areas and change between procedures daily.   
Willingness to learn
Law is an ever-changing sector. Legal reform is a continual process and procedures change and evolve. It is mandatory for many legal professionals to take part in a certain amount of Continuing Professional Development every year. This filters through to the other roles in the profession and legal support staff are encouraged to improve their knowledge and skills. Being a Legal Secretary or PA, can be attractive for people who love to learn. 
We hope this article gives you confidence in your natural abilities. We encourage you to highlight them in your job applications when looking for work. ILSPA Members can receive personalised CV help and guidance to secure employment. Take a look at our Membership page to view the benefits of Membership.