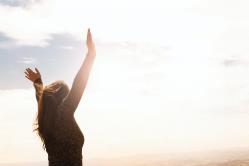 One way to shift your character – and your life – in a new direction is to set a goal that's incompatible with the limitations of your current character.
In other words, set a goal that you would never set. Then work diligently to pursue and achieve that goal.
Thinking you can't do something because it's out of character for you is still just a thought. You can change your thoughts, but sometimes it's easier to change your actions and behaviours and let your thoughts play catch-up. Sometimes thoughts of who you are just get in your way and slow you down.
When you try to change yourself at the level of thought first, sometimes that works, but other times it will just lead you into a circular trap of thinking, thinking and more thinking – and never actually doing, exploring and experiencing.