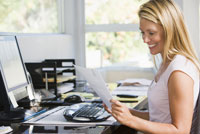 Working from home as a Virtual Legal Assistant is a great way to freelance and find freedom in the way you work. As recently as ten years ago this sort of remote working, although not unheard of, was not really as practical as it is today. The technology just wasn't affordable, and the legal world has been noted to be quite cautious when it comes to new technologies.
In these changing times, however, it is becoming more common for all kinds of administration tasks to be outsourced to remote workers. Budget constraints, changing attitudes and cheaper technology are leading more organisations to seek out third-party secretarial services.
This new market presents a unique set of technical challenges to the fledgling Legal VA. Larger firms that have their own in-house IT departments are likely to develop their own solutions for remote support staff, but with smaller firms on a lower budget you may find yourself doing a bit of techno improvisation, depending on what is required of you.
Here is a list of technologies you may encounter or find useful when going into the VA trade.
Connectivity and Security
Broadband – You won't be doing any telecommuting without a decent Internet connection.
VPN – Larger firms may require you to connect securely to their corporate network using a VPN (virtual private network) client. This technology allows you to securely connect to their network and have access to any servers and devices on that network.
Remote Desktop and File Sharing
Remote Desktop – Firms with the infrastructure may set you up with a remote terminal that you connect to using something like Citrix or MS Terminal Services. Essentially this technology allows you to dial into one of their servers, which will provide you with your own desktop (terminal) complete with any software they require you to use, as well as access to shared drives and printers on their network. This is a great way for firms to manage remote workers.
MS SharePoint or Web Folders – These technologies allow authorized users to access shared folders over the Internet using a web browser. These shared resources are only used for file sharing, and the VA would be required to use their own word processing software and so on. This may suit firms who are on a smaller budget.
FTP – A low-budget file sharing solution would involve your client setting up an FTP (File Transfer Protocol) server for you to upload and download files from. I recommend the open-source FileZilla products, as they provide completely free and safe FTP client and server software.
E-Mail and Calendar Management Solutions
Outlook – Outlook is the most common email client used in business today. It ships with the Microsoft Office suite and provides decent calendar management as well as e-mail. If you work using a remote desktop solution you will probably find that Outlook is installed on the terminal. This makes it easy to manage your clients' calendars and contacts. You can also manage your clients' calendars from your own copy of Outlook when connecting to their network using a VPN. It is possible that one or more of your clients will give you access to a web-based version of Outlook.
Gmail Sync – If the above solution is outside your means or budget or if, like me, you prefer not to use Outlook, there are free solutions. If you use Gmail or Google Apps for your email you can sync with your clients' calendars using Google calendar sync or Plaxo. Once installed on a client's machine, these plugins allow you to have a two-way or one-way sync between your Google calendar and the client's Outlook calendar. And, best of all, they're completely free and likely to suit those on a smaller budget.
Google Apps – If your VA business needs a professional email solution on a shoestring, you can do no better than Google Apps. Google has been providing pro email services to organisations for some time now. With Google Apps you have access to the great interface, spam filters and reliability of Gmail, but branded the way you want and using @yourdomain.com instead of @gmail.com. There are both ad-supported (free) and paid (pro) versions of this service. Many organisations are switching to Google Apps due to its cost-effectiveness and ease of management.
From time to time you might also find yourself interacting with other email systems, such as Lotus, Zimbra and Zoho.
Other Technology You May Encounter or Find Useful
Open Office – The world's favourite free and open-source office tools suite
VOIP – Voice over IP makes it easier and cheaper to run your own telephone system. Skype is the one for those on a super low budget, although there are a lot of excellent virtual switchboard solutions out there for those with the need and budget.
QuickBooks – There is a free version that makes managing your budget and invoicing a breeze.
Zamzar – This is a free online file conversion tool. If you ever need to convert files from one format to another, Zamzar will become your best friend.
PDFCreator from PDF Forge – Completely free open-source software for converting documents to PDF files.
Freelancer sites like eLance – eLance is a valuable resource for those looking for freelance VA work.
Please feel free to comment with any experience or knowledge that you wish to share. I would like to know what technology you have encountered in this new and exciting way of working.