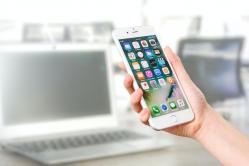 Being able to manage your workload well makes all the difference in how you perform in your role. Whether you are a new Legal Secretary or someone who has been working in the legal profession for many years, you will need to manage your workload efficiently. Learning this valuable skill enables you to do your job well and avoid becoming overwhelmed.
To be able to manage your workload successfully, it helps to plan and schedule your tasks. There are some very useful apps that can assist you with this. We have listed some of the best ones here:
You can manage your tasks in Microsoft To-do from an app on your phone, tablet or desktop computer. Creating a to-do lists means that you can set daily tasks and targets for yourself and mark them off when they are completed. It's a great way to get organised and know exactly what your priorities are for each day. You can also connect it to the tasks feature in Outlook, if you use it.
This app is very simple and straightforward to use. In the same way as Microsoft To-do, you can download it and sync it on different devices. You can sort tasks into "Today" or "Upcoming" and create folders for different areas. Some of the app's good features are that you can set reminders with notifications and also share projects with colleagues.
Serene has been designed for Mac users. It can help you plan your tasks as well as stay focused. It asks you to define a goal for each day and then breaks it down into smaller tasks. This app comes in handy if you have a big project to manage. It assists you with eliminating distractions and encourages you to take breaks to maximise productivity.
You can be sure to get things done through this award-winning app. This is another app designed for Apple users and can be installed on your iPhone or Mac. Whether you need to schedule tasks or manage a project, this useful tool will enable you to get organised and achieve your goals. You can focus on your daily targets as well as plan ahead.
If you use Gmail as your email provider, Google Tasks is a great app to integrate with your emails and calendar. It can sync across all devices and help you keep on top of everything in one place. You will be able to manage and edit your tasks from anywhere, enabling you to be more efficient in your work.
If you are currently studying ILSPA's Legal Secretaries Diploma course, there is some helpful guidance included within the Key Legal Secretary Skills unit on managing your workload. Whatever stage you are at in your career, learning to hone this skill will be of great benefit.