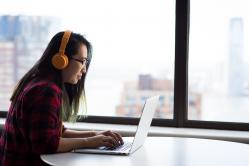 Audio typing is a valuable skill for those wishing to improve their professional abilities as a Legal Secretary. There are a number of jobs that list audio typing as a stipulation, and although it is not a skill that is always required, it may enable you to welcome better job prospects.
We have put together a list of the best online resources for Legal Secretaries looking to improve their audio typing skills.
Although not strictly an audio typing resource, Typing.com is a good place to start if you are looking to improve this skill. Legal Secretaries with audio typing skills will often be asked to demonstrate the speed at which they can type. So, it is vital for prospective Legal Secretaries to refine their touch-typing skills. Typing.com is a free online course tailored to help typists of all levels from beginner to advanced. You can create an account and then work through the exercises as little or as often as you require. The site tracks your progress and issues an e-certificate when you hit each milestone.
Express Scribe Practice Transcription Files
Express Scribe is a popular transcription software maker. It provides several files for you to practise with on its software. The software is free to download, and there are PDFs of the completed transcription to check your work. Unfortunately, there is no timing mechanism to check your speed. They do, however, have a range of files that are legal transcripts for you to practise with. It is a good place to practise typing legal-specific documents, which include relevant topics and terminology.   
Sense-Lang.org – Typing Audio Tutorial
Since 2001, Sense-lang has been providing a free, unique and user-friendly typing course. They also have a range of free tutorials on their site, one of which is for audio typing. A huge benefit of this site is that it is very simple. Click start, make choices under Text to Speech, Voice and Talking Speed, and you are ready to go. They have text for different levels of difficulty and different accents and speeds to test yourself with. After you have completed each exercise, it will give you your speed and accuracy results. So, you can keep track of your own progress.  
It takes a little time to make sense of this site. However, it has many audio files that can be typed directly into its interface so that it can score your speed. It is one of the few free sites that, if you sign up and log in, will keep track of your progress. The site has files in a wide range of levels and languages and offers different modes of transcription from full to correction. The site is very diverse, and that is why it is worth making the effort to look past its slightly unorganised layout.
For further advice, contact The Institute of Legal Secretaries and PAs. ILSPA provides recognised Legal Secretary courses and can provide guidance on how to acquire audio typing skills.