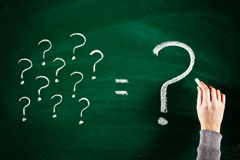 For those of you already familiar with constitutional and administrative law, the 'West Lothian Question' will no doubt bring forth a frustrated sigh of recognition as you remember covering it in your legal studies. For those of you unfamiliar with this important point that affects our country's democracy, allow me to explain as succinctly as possible.
The West Lothian Question was first raised in the House of Commons as far back as 1977, when Parliament was already discussing the possibility of a devolved legislature for Scotland. It was actually a Scottish Member of Parliament that questioned the fairness of non-English MPs being entitled to have a say over legal matters that were only ever likely to affect English constituents. That person was Tom Dalyell and at the time he represented the constituency of West Lothian.
It now transpires that this was indeed a very pertinent question to ask at that time, and this question has become increasingly relevant over the years, especially in consideration of the fact that Scotland, Wales and Northern Ireland all now have their own separate legislative powers (to varying degrees, obviously).
Mr Dalyell could have had no idea just how incensed many English citizens would be feeling over this issue, some 30-plus years after he first touched on the point. Today, many English people feel as though the devolution of certain powers to the other three states of the United Kingdom has had a detrimental impact on the largest country in this union. Despite the fact that the majority of the population lives in England, it is fair to say that we often feel like the poor relatives, having to buy the other three states off in a way, just to keep the United Kingdom intact.
The fact is that even when an issue is being discussed in the House of Commons that will only affect England, MPs from the other three states are perfectly entitled to have an equal say. This is in addition to the fact that they would already have an assembly or parliament that would legislate over such an issue within their own home nation. This is terribly unfair for England and proof is starting to emerge that this arbitrary entitlement is having a detrimental knock-on effect on England.
The most recent example of such an impact may be seen through the 'tuition fees' legislation, which means English students are being charged rates to study that are well beyond anything in the other three states. At the final vote for this legislation, the vote was very close (316 in favour and 311 against). It has been suggested that some Scottish MPs may have provided the overall tilt in favour of this law being passed for England.
It seems fairly obvious that there are MPs from certain parties that will only ever have the best interests of their home nation at heart; I hardly need list these here. This goes even further, though, as there are a number of people sitting as MPs that wish for their home nation to become fully independent from the UK; therefore, you can rest assured that there will always be a temptation to help pass legislation that will be to the detriment of an Englishman.
Another controversy that has reared its ugly head recently has arisen over prescription charges. Whilst the other three states of the UK now enjoy free prescriptions, what has happened in good old England? That's right, you noticed; the prescription charge actually went up by yet another 20p to £7.40. I would implore anyone to set out exactly how this fact even begins to be fair.
The new Government are actually looking into this unfair aspect of our parliamentary system, and Kenneth Clarke has been asked to establish a 'Democracy Taskforce' to look further into the matter. However, the earliest signs are not overly encouraging in this regard. Thus far, it would appear that there is a preference to still allow MPs from other nations to sit in on certain stages of the English legislative process and to only bar them from one or two of the stages. However, surely this does not address the fact that these MPs are voting on legal issues that are quite literally none of their business?
Many people believe that the only way forward here is to completely ban MPs from the other nations from Parliament when legislation is being deliberated over that will only affect England. Such MPs should only be entitled to sit in Parliament when one of the few aspects of law (e.g. foreign affairs and defence) that is not devolved to their respective legislatures is being considered. Better still, surely it would make sense, and save a lot of money, if MPs were no longer elected from the other three states and instead, the elected representatives from the devolved legislatures were to attend. After all, MPs from Scotland, Wales and Northern Ireland are becoming increasingly obsolete now.
The West Lothian Question will definitely not go away. As England continues to receive the raw deal on many issues that affect all of our lives, you can bet your bottom dollar that unless this issue is tackled properly and expeditiously, it will not be the other three states leaving the United Kingdom, it will be England kicking them out.
If you are intrigued by the workings of the English Legal System, it may well interest you to learn that you can study this in more depth through the Institute's Legal Secretaries Diploma course. This is just one of the many legal areas that you will cover, and you can study this course through evening classes or by distance learning.
Please note that the views expressed in this article are those of the author and do not necessarily reflect those of ILSPA.