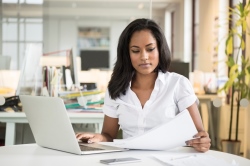 2020 has arrived and it's a great time to have a think about the ways in which you can develop yourself professionally this year. The new year offers a clean slate where you can see things clearly and focus on improving your professional working life.
In order to be a competent and efficient Legal Secretary, you need to have impeccable skills. There are many different areas which you could consider improving, including your secretarial, legal or IT skills. Our New Year, New Skills article can give you some guidance with this. Whether you are new to the profession or you are an experienced Legal Secretary, there are always ways in which you can improve to be better at your job.
ILSPA provides a continuing professional development (CPD) programme which encourages our Members to advance their knowledge and skills. Through doing this, the standard of your work improves and you can be a great asset to your employer. Many law firms register their Legal Secretaries with ILSPA as they recognise the value of our CPD programme. A representative from Sidley Austin LLP in London stated: "The main benefit to membership is the responsibility for learning, coupled with a reputable institution's recognition. This offers not only the external benefits provided by ILSPA but the desire to achieve and maintain a level of expertise. I don't think we could have done such a task if we had not been part of ILSPA."
Through our CPD programme, you can be recognised for the progression you make in your career and be supported in your accomplishment. Any CPD you undertake must be related to your work. If you undertake a minimum of 12 hours of CPD over the course of a year, you will be awarded a CPD certificate which you can proudly display in your workplace or at home.
Imagine how pleased your employer will be to see that you care about the quality of your work and you are dedicated to your role. Not only will it give you great job satisfaction to do the best you can but it will also enable you to shine and be valued.
You can find more information in our Continuing Professional Development area.This can be accessed by logging in to the Student and Member area of our website.
Make 2020 a great year for your career!