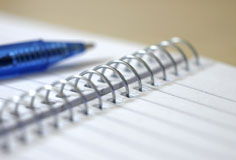 Part 1 – Preparation
One of the key aspects of being able to take minutes at meetings is the importance of preparing to take minutes. The better prepared you are the easier it will be for you to concentrate on taking minutes during the meeting. So here are the top 10 tips to help you prepare so that you can focus on the meeting rather than worry about what it's about, whether you've booked coffee or if the PowerPoint works.
Read the agenda and any accompanying papers. Consider what will be discussed for each item, the terminology used and if you envisage any problem areas. See who is responsible for each item and how long the discussion is estimated to last.
Know the overall purpose of the meeting. Find this out from the chairperson. Know what each item is about; if you're unsure, check with the chair or the person responsible. Some background will definitely help you when taking minutes.
Read the previous minutes, if there are any, to bring you up to speed on topics and so you recognise the language and names of the companies and people mentioned.
Arrange a pre-meeting meeting with the chair to discuss all of the above, to agree timings for items, to ask the speaker to sum up after each item and to establish whether it will be OK for you to interrupt if anything is unclear during the meeting.
Know the style of minutes that you will have to write up, as this will affect the notes that you take during the meeting. For example, do you need to follow a particular house style? Do you need to be very formal? Do you need to convey emotions? Will simply 'action' minutes be sufficient for this meeting? Plus, find out how the minutes will be used and by whom, as this will also affect the notes you take.
Pre-rule your pages or print a template of agenda items for taking notes. This will save you time during the meeting and also help you avoid missing something important while you rule up your pages!
Ensure you have the correct equipment: pens, paper, spare copies of the agenda and previous minutes, phone numbers of anyone you might have to call and a diary (or at least a calendar). If your writing paper is not in hardback covers, take a clipboard with you too, just in case there is not enough room at the table for you!
Know who will be attending the meeting. Check the initials you will use for each of them and make sure there are no doubles. If you do not know certain participants, see if you can find a photo so you recognise them when they arrive.
Confirm the admin arrangements and refreshments for the room. Let reception know about the meeting, especially if you have any visitors arriving for the meeting. Book and double-check any equipment that will be required for the meeting.
Arrive early – at least 10 minutes before the start. Claim your chair next to the chairperson. Be there to greet participants, and introduce yourself so you can hear the participants' voices in case you haven't spoken to them before. Finally, do a table plan of where they sit so you can refer to this later. If you forget to write down who said what, you will probably be able to remember where they were sitting and what they looked like. By referring to your table plan, you can make sure you capture everything.
In part 2 we will look at how to take the minutes at the meeting, so that your notes can be understood and therefore written up with ease.
Judith Di-Castri

Judith Di-Castri is a specialist communications consultant at Zee Associates (www.zee-associates.co.uk). She can be contacted on 01825 733621 or judithdicastri@zee-associates.co.uk.