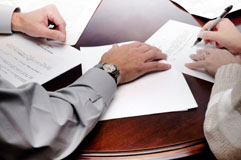 Wills are not usually the subject of polite conversation, but they are rarely out of the news. Typically, wills become newsworthy only when things have gone terribly wrong. On this occasion, however, there is a positive reason why wills are being discussed across the nation, namely a new series on television, 'Can't Take It With You'. The programme aims to increase people's awareness and highlight some of the emotional and financial pitfalls of wills and inheritance law.
The subject of wills and probate was last considered in the November 2009 edition of the Journal. In the November article we considered the Law Commission's proposals for amending the intestacy rule. A further report is expected in November of this year and we may see some new legislation in 2012. For any students who have recently completed the Diploma course, you will have learned about the amended rules. If you completed the Diploma before February of 2009, we would recommend that you read the Journal article on these welcome (but not complete) improvements to the law.
Throughout January the television series, which was commissioned by the BBC and is hosted by Sir Gerry Robinson, has been examining the conflicts that can arise because of the prickly issue of inheritance.* Sir Gerry said about wills in general that:
'Writing a will is not really about the process of getting it down in black and white, it's about dealing with emotional issues within families, which is absolutely bloody difficult. If you don't leave a will, it's a flaming mess for whoever's left behind.'
He believed the reason why fewer than 30 per cent of people leave a will behind is because:
'Partly we don't like facing up to the reality of our own death. But mostly it's to do with the fact that you have to address the emotional complications of the various people involved.'
The program clearly struck a chord with some members of the legal profession, judging by this tweet from solicitors firm Walker Smith and Way:
'Looks like a fantastic series, have recommended it to our wills and probate team and tweeted to our followers too. It's amazing how many people never make a will, so hopefully this will encourage people to be less frightened or put off and mean they are able to talk to their families about their will and decisions.'
Anything that causes members of the legal profession to become animated is worth looking at either as a prospective interviewee or as a current employee. The fact that the series may make people question their own plans for the future is good. Even more importantly, it may highlight issues that potentially affect millions of people in the UK.
If you have already completed the Diploma course, you will have a fairly good idea about how important the subject of wills and probate is and may have already watched the first few episodes in the series. If you are new to the subject, you could certainly benefit from watching this television programme, which gives a glimpse into the topic. The second episode in the series looks at another difficult subject – whether it is right to favour some children more than others in a will.
If this article has piqued your interest in the subject or you prefer stories about wills that have gone wrong, there has recently been the fascinating case of Gill v. Woodall & Others [2009] EWHC B34 (Ch). The Court of Appeal made a decision in this case in November 2010, which resulted in the RSPCA 'losing' an inheritance of a £2.4 million farm. You can follow the link below to read more about this case.
http://www.civilsociety.co.uk/governance/news/content/7879/rspca_loses_appeal_over_gill_legacy_case
*First broadcast on BBC Two on Friday, 14 January 2010, and called "You can't take it with you"