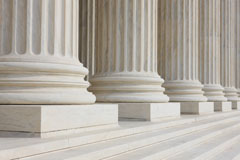 Even in the best of times it is a good idea to keep the courts on your side. At the moment it is more important than ever given the increased pressure that judges are under. In a busy litigation department, fee earners can find it difficult to be as organised as they should be, but this is a role which you as a legal secretary are in a position to help with.
The president of the Association of District Judges, Monty Trent, recently identified a number of tips that can help fee earners to get on with their judges.
Corresponding with the court
The following tips may seem obvious, but if they are being raised by an eminent judge then you can be sure that these are common points of irritation for members of the judiciary.
The first point involved the correct addressing of letters to the court. In a similar way that members of the police should be written to via the chief constable, judges should not have letters addressed to them personally. The correct procedure is to address all correspondence to the court manager. When letters are addressed directly to a judge it will be treated as private correspondence and will be sent, unopened, to the judge in question. This will waste time, as it will usually take a day for the letter to reach the judge and then more time for it to be sent back to the court manager.
The second point about correspondence is to ensure that if a letter has enclosures they have been checked. It is very common for some or all of the enclosures to be left out.
Court bundles
This is not the first time that court bundles have been written about in this journal. A detailed article was published in February 2009. It is recommended that you review this article. Recent case law1 shows that problems still exist with how court bundles are being prepared. Mr Justice Munby in the case of X and Y (Bundles) was clearly frustrated with the continuing failure by some firms to prepare bundles properly. He pointed out that in addition to a firm having to pay for the cost of wasted time, there was a growing possibility that offending solicitors might be publicly identified. That is the kind of publicity that any solicitor wants to avoid.
Just to remind those new to litigation, as a case approaches a hearing, a great deal of time is usually spent preparing a court bundle. The court bundle assembles all the evidence the parties intend to rely on at the final hearing. Some fee earners regard this job as purely administrative and thus not important, but they could not be more mistaken. This stage in trial preparation has become so important that the rules were amended in 2006 with a new practice direction explaining what was required.
District Judge Trent pointed out a number of issues with court bundles which are causing his fellow judges problems. Some of these are recurring themes and they include:
Documents in the bundle not being in date order;
Page numbering (referred to as paginating) being inconsistent;
Duplication of documents;
Where photos are included, use of poor-quality duplicates, or failure to have the originals included with counsels' brief; and
The lack of clear location plans/details (easily remedied nowadays with a quick search of Google maps for a map and/or satellite photo).
Your value to a litigation department will certainly be enhanced if you can help those you are working with avoid these simple mistakes. Often in practice the busy fee earner will get all "the big stuff" right but will make a number of small mistakes which at best annoy the judge and at worst cause him or her to lose a case.