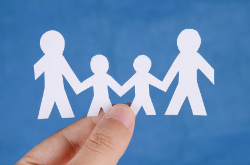 Matrimonial and Family Law is a common legal area which lawyers deal with. If you are interested in learning about this area of law because it holds a particular interest for you or you would like to better your job prospects, read on.
The best place to start with this subject is, ironically, the end. When a couple decide that their relationship has ended, there will inevitably be a number of things that must be dealt with. This might include childcare, financial matters and housing. Many couples choose to separate and make informal arrangements to avoid the need for a court to decide the issues. In this article we will consider the example of a married couple that is not able to reach an informal arrangement.
Formal steps to become divorced
At present the 'Matrimonial' part of the course deals with marriage between opposite sex couples and civil partnerships between same sex couples but very shortly marriage will be extended to include same sex couples as well.
To get divorced from a marriage or to have a civil partnership 'dissolved' you must have been married or in partnership for at least a year and the relationship must have permanently broken down. For a union to be terminated in the UK, it must be legally recognised in the UK and you must have a permanent home in England or Wales. There are 3 main steps to getting divorced:
1. File a divorce petition – It is necessary to get the court's permission to divorce.
2. Supply to the court the necessary evidence as to the cause of the breakdown and the consent of the other party if the divorce or dissolution is to go through on an undefended basis.
3.  Apply for a decree nisi – This is a formal confirmation that there is no legal reason why you should not get a divorce.
4. Apply for the decree absolute – This is the formal confirmation that can be applied for six weeks after the decree nisi and that legally ends the union.
No attendance in court is necessary unless the other party does not agree to the divorce or dissolution.  In such a case the proceedings will proceed on a 'defended' basis and the court will make the ultimate decision.
Many Matrimonial Law clients are able to deal with the paperwork involved in obtaining a divorce themselves, but problems occur when they try to agree on difficult issues such as finances or arrangements for children. These types of problems often do require the intervention of a lawyer. 
Children
Where children are involved in a separation, the court will not let you divorce (or dissolve a civil partnership) until you can show that you have arranged things like:
1. Where the children will live
2. When they will spend time with each parent
3. Who, if anyone, will pay maintenance
Matters such as parental responsibility, contact and residence can require professional help to settle. 
Financial arrangements
Assuming the potential minefield of child welfare is successfully negotiated, another key area of tension the legal profession often assists with is the parties' finances. Where a couple cannot agree on financial matters, a procedure called ancillary relief is used. This may include a lawyer seeking an order for maintenance pending the divorce for his or her client. Periodic payment orders, lump-sum orders, transfer of property orders, settlement of property orders, sale of property orders and splitting of pension orders are also available. The court makes the decision about whether or not to grant these orders based on statutory guidelines. Some of the points that the courts will consider include the welfare of any child; the financial resources of the parties; the parties' financial needs, the contributions made by the parties to the welfare of the family during the marriage; and the conduct of the parties.
This article touches only on some key areas of work that a matrimonial lawyer will deal with in practice. If you are interested in furthering your knowledge and gaining a formal qualification, however, we provide Single Subject Legal courses at Foundation and Advanced levels in Matrimonial, Civil Partnership and Family Proceedings Law. You can study from home by distance learning and start at any time of year. Please telephone us for details on 0845 6434974 or email info@institutelegalsecretaries.com.