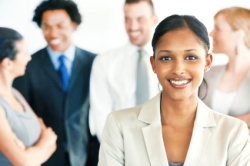 Think about how happy your firm would be if you could take on more responsibility and be more productive in your role. If you were to further your knowledge of law, you could be more involved in legal procedures and save your employer precious time and money. Not only would it be beneficial for the company, but it would lead to greater job satisfaction for you.
Improving your confidence at work will help your employer to be confident in what you do, leading to greater delegation of work, which, in turn could lead to higher cost effectiveness for the firm. For example, the more the fee earner can delegate, with confidence, to his or her Secretary, the more billable time that person can produce for the firm by doing other work that can be billed. The maths are quite simple, but the result can be very substantial! Let's say a Legal Secretary can, through delegation, save the person he or she works for, say, an hour a day to work on other things, and that person bills £100 per hour. In a five-day week, this could amount to (5 x £100) = £500. Over a year it could amount to £26,000. And these are only conservative figures.
ILSPA provides excellent legal courses in a wide range of subjects at advanced levels. The courses will help you understand law and procedure beyond the role of a Legal Secretary and will enable you to gain some valuable Paralegal skills.
The following areas can be studied at home via distance learning:
Civil Litigation
Corporate and Commercial Law
Criminal Law
Land Law and Conveyancing
Matrimonial, Civil Partnership and Family Proceedings Law
Wills, Probate and Administration
There are no examinations for these courses. The subjects are assessed through coursework which you must send to us to be marked. You are required to complete a multiple-choice achievement test and a written assignment to show your understanding of the area of law in which you have studied. Full guidance is given for assignment writing in the course material, and everything you need is provided on CD-ROM. There is no additional reading material to purchase. Upon passing a course, you will be awarded a Diploma Certificate through the Institute of Legal Secretaries and PAs.
You have access to full support during your studies. If you require help with your coursework, you can telephone or email us, and we will be happy to answer any questions you have.
We are offering a special discount to those of you who would like to study two Single Legal Subject courses. The courses are normally £300 each, but we can offer you two courses for £450. Essentially, if you buy one, you will get the other half price. Please enrol by calling us on 0845 6434974, stating that you have seen this offer in our journal.
Many law firms enrol their Secretaries on our courses, so why not make enquiries with your employer's HR department as to whether there is any funding available? If there is none available, it is worth funding a course yourself to advance your career.
For further information about these courses, please telephone us on 0845 6434974 or email us at info@institutelegalsecretaries.com.