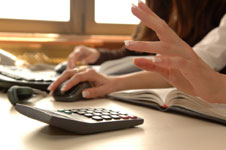 The importance of good client care in helping to ensure your firm's bills are paid.
"Anybody who thinks talk is cheap should get some legal advice" - Franklin P. Jones
The joke may not be very original but it sums up the public's perception about lawyers - expensive and overpaid. With this in mind it will not come as a surprise that a lawyers bill is one of the main sources of client complaints. What is surprising is how badly many solicitors deal with the tricky question of costs.
Part of the problem is that many solicitors will have had little or no training about exactly how they go about being paid for the work that they do. They rely on the fact that many clients will simply pay their bills or will not seriously question them even when the bill is far more expensive than initially quoted. In any business if the service you supply is seen as poor value, the customers will not come back. This principle applies just the same to a legal practice.
The Rules
The overriding rules relating to solicitors costs are contained in Rule 2 of the new Solicitors' Code of Practice 2007. The Code replaces the 1990 Solicitors Practice Rules and are intended to pave the way for businesses other than the traditional high street law firm to provide legal advice to members of the public. The new Code requires a fee earner to:
Inform a client about costs
Explain the basis of the firm's charges
Provide up-to-date estimates of the overall legal costs
On the face of it, these requirements seem straightforward business practice for providing good client care. Unfortunately, when rushing to provide the legal advice, fee earners often fail to comply with the rules. Not only is this bad practice, but in the future it is also likely to result in the fee earner having to reduce or write-off their bill resulting in them not being paid for the work that they do.
Your role in ensuring best practice for your firm
As one of the key points of contact for clients your ability to identify potential problems early is invaluable in helping your firm to provide top class client care.
Practical ways to avoid problems include:
Checking that every client has been sent a "client care" letter. Your firm is likely to have a number of standard letters that clients should be sent at the beginning of a matter. The client care letter should set out the basis of the firm's charges (e.g. hour rate or fixed fee) and the name and status of the fee earner responsible for doing the work. Always be careful to ensure that you are using an up-to-date client care letter as they are usually amended at least once a year. Also, make sure that you use the right client care letter as separate legal departments within a firm may use different letters.
Make sure that every file has a clear review date for cost estimates. The general view is that every file should be checked at least once every six months to ensure that the last cost estimate given to the client remains accurate.
Make sure that you advise clients if your firm raises their hourly rate (most firms do so once a year).
As PAs and legal secretaries, you can play a key part in helping your fee earners to follow simple costing guidelines. By ensuring the guidelines are followed you will help manage clients expectations and ensure bills are paid, with no questions asked!