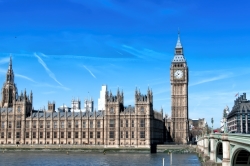 This month we will consider the Queen's speech which took place towards the end of 2019 and what new laws we might expect to see in 2020.
The Queen usually only attends Parliament on ceremonial occasions. Last year, she was present at the State Opening of Parliament, where the start of the parliamentary year was marked. At the state opening, the Queen read out her speech from the throne in the House of Lords Chamber. To be more precise, the speech was not actually the Queen's own words; it had been prepared for her by the Prime Minister, Boris Johnson. The Queen's speech normally happens once a year, but the last one happened in June 2017 because the Prime Minister at that time, Theresa May, wanted a two-year parliamentary session.
In the Queen's speech, 26 bills were set out by the government. These bills included proposals to create seven pieces of Brexit-related legislation; seven criminal justice bills; plans for an independent NHS investigations body; an environment bill which set legally binding "improvement targets"; proposed reforms to the divorce laws; and changes in employment law to require waiting staff to be given "all tips".
The speech was particularly noteworthy because despite setting out the 26 bills the government had planned for the coming session of Parliament, a general election was called for 12 December, which could have changed the laws that went through. As the Conservatives won the 2019 election, the laws announced in the Queen's speech will now be brought before Parliament. A party's manifesto is one of the best indicators for which new laws might be created after a general election. What we can expect is that there will be proposals on health and social care, the economy, employment, education, taxation, policing, energy, and transport, to name but a few key areas of government policy.
One law which managed to be enacted on the final day of the last Parliament was the provision for opposite sex partners to enter into civil partnerships. In a previous article, we reported on the Supreme Court ruling that it was discriminatory to allow only same sex couples to enter into civil partnerships. The new rules came into force on 2 December 2019 and the first ceremonies took place on 31 December 2019. 
It is also very likely two bills which did not have time to be voted on in the last session will be carried over to the next session of Parliament. These are the Domestic Abuse Bill and the Divorce, Dissolution and Separation Bill, which is planned to provide for no-fault divorces. We will be providing you with an update on the uptake for same sex civil partnerships and assess how this form of relationship stands up to the proposed amendments to the law on marriage.