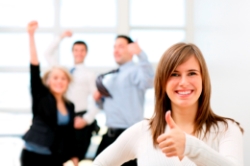 Membership Level
ILSPA offers four levels of Membership dependent on your qualifications and experience. If you have recently qualified with ILSPA or you have been working as a Legal Secretary for a few years since you first applied for Membership, you can upgrade your Membership level.
Those who have passed the Legal Secretaries Diploma course are eligible for Affiliate Membership, which shows employers that you are a qualified Legal Secretary. Keep this in mind when renewing your Membership with us. Once renewed, you will receive an attractive Affiliate Membership certificate, which you can show to employers or put in a frame on the wall.
If you are currently looking for work and have registered on our Legal Secretary Jobs Board, make sure that you update your Membership level within your profile so that recruiters can see what stage you are at in your career. Recruiters will be looking for newly qualified as well as experienced Legal Secretaries.
Existing Affiliate Members should be aware that as soon as you have one year's experience as a Legal Secretary, you can upgrade your Membership to our Associate level. Being an Associate Member means that you not only receive an attractive certificate but you can also use the designatory letters AILS after your name, showing that you are an experienced Legal Secretary.
Similarly with Associate Members, once you have gained at least four years experience as a Legal Secretary with a Legal Secretary qualification, or you have at least six years working experience, you can upgrade your Membership level to Fellowship status. This will enable you to use the designatory letters FILS after your name and you will receive a prestigious certificate. Fellowship is our highest level of Membership and proves that you are a well-experienced and dedicated Legal Secretary.
Being a Member of the Institute of Legal Secretaries and PAs gives you a great advantage over other Legal Secretaries. You gain professional status and are a part of your own professional organisation. Through Membership, you also have access to a wealth of excellent resources, which can help you in your work and studies. These are not only available within the Student and Member area of our website, but also through our online Legal Secretary Journal. Please remember that you can also receive personal advice and support from ILSPA's team directly by calling us on 0207 1009210.
CPD Programme
We like to encourage our experienced Members to keep their knowledge and skills up to date and take part in our Continuing Professional Development programme. Many law firms have registered their Legal Secretaries with ILSPA as our CPD programme helps them to advance their professional skills. Law firm Sidley Austin was so pleased with what we do for their Legal Secretaries that they stated: 
'The main benefit to membership is the responsibility for learning coupled with a reputable institution's recognition.  This offers not only the external benefits provided by ILSPA but the desire to achieve and maintain a level of expertise.  I don't think we could have done such a task if we had not been part of ILSPA.'
For those interested in our CPD programme, take a look at the information provided in our Student and Member area. You can also request information by emailing info@institutelegalsecretaries.com.
ILSPA's Online Member Area
If you have been a Member of ILSPA for a while, make sure that you keep up to date with the resources we provide. Please take a look at our online Student and Member area to see what's available. We highly recommend that you keep up to date with law and follow our professional development advice. If you are job hunting, you can receive the latest career advice from industry professionals.
We strive to provide the best service to our Members and want to ensure that everything you need is in one place. We would very much welcome any ideas or suggestions you have for the Student and Member area of our website. You can email us at info@institutelegalsecretaries.com with your thoughts. Membership is a two-way relationship and we love hearing from you.