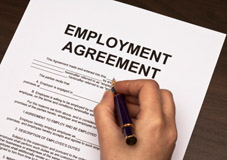 At the Institute of Legal Secretaries and PAs, we have used our journal to report back on the effects of employment law on economic recovery in the past. We discussed the possibility that some businesses were struggling to cope with the financial burden that such legal regulations impose upon them, and how this may have led to a sharp increase in the number of employment tribunals that were being pursued.
It would now appear that those initial concerns were completely accurate, especially in light of statistics that are being reported through certain law firms that deal with employment law. One firm (Maxwell Hodge, Liverpool) has actually stated that they have seen a massive 56% rise in the number of employment tribunal claims in the year 2009/2010 compared with the previous year. It is also important to note that there would have been a marked increase in 2008/2009 compared with that previous year.
There is no denying the fact that there are many elements of employment law that are especially detrimental to a small or medium-sized business' recovery. Be this the minimum wage or statutory maternity leave pay, such payouts can mean the difference between a company managing to keep its head above these recession waters or not.
One of the most worrying aspects that has been identified in this sharp rise in the number of employment tribunal claims is the fact that employers are consistently refusing to follow the clear regulations that have been laid out in law. This could be put down to the fact that the employer simply cannot afford to seek professional legal advice when they are left with no other alternative than to make some members of staff redundant, or it could also be because the employer is looking to do what they can to get out of their duty to pay the minimum amount of redundancy pay that has been set out.
This exponential rise in the number of employment tribunal claims has not gone unnoticed by the government. The Prime Minister, David Cameron, has recently announced the requirement for a review on the impact of current employment law regulations and it has already been recognised that it may be necessary to double the amount of time an employee would be entitled to bring an employment tribunal claim against their employer (to two years).
In previous articles on employment law, we have mentioned that there will always be a contingency of companies that will use this current economic situation as a scapegoat and this definitely still stands firm. All employment law solicitors cannot stress enough how imperative it is that an employer familiarises themselves completely with the legal duties they will face if they are forced to make any staff redundant. Trying to save your company money, without following the official law, could prove to be far more costly in the long run.