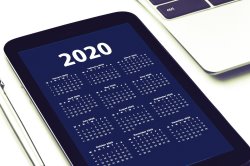 December is here and Christmas and the new year are just around the corner. Hopefully, you are all looking forward to a well-earned rest over the holiday period, but there are still a few weeks left to work through before we can put our feet up. The end of the year can be a busy and rather hectic time for law firms. It can be hard to think about the little things that may need doing. Here are a few tips to really help you round up the year and set yourself up for 2020 while you're at it.
Take a look at your CPD
Continuing professional development is just as important for Legal Secretaries as it is for fee earners. Many of you will have been working on various things this year which count as CPD, so now is the time to take stock and submit your CPD application (if you haven't done so already). It is great to get this ticked off before the end of the year rather than letting it roll over. Doing so allows you to see where any areas in your professional development need improvement so you can add these to next year's CPD goals.
Get organised
Make a December calendar page and schedule in everything that needs to be done before Christmas. Creating a calendar rather than a list of alerts will help you prioritise your tasks and make sure that you are giving each one the amount of time needed. Having these last few weeks clearly organised like this will help you visualise how everything will get done and enable you to effectively deal with it all. It is a good idea to ask your boss if they have any additional tasks that they would like you to do this month, such as helping organise the Christmas party or sending cards, so you can add them to the calendar too.
Start a 2020 to-do list
Dedicate a page in your current/new planner to write down any tasks that you think of that will need to be done next year. Having a separate 2020 to-do list that you can add to as you go along stops future tasks filling up your current list, and prevents you having to remember too much when you return in the new year. Creating a clear to-do list for 2020 means that you will be able to go back to work feeling organised and prepared.
Prepare in advance
As December comes to an end, start thinking about any updates that need to be ready for 2020, such as the date change. You might need to create new files, update document templates or change email signatures. Organise your notes and files, and stock up your stationery. Any jobs that you can get done in advance will make your first week back in the office much easier.
Have a tidy up
Through the month, try to tidy and clear your work area. Throw away anything not needed anymore (bearing in mind confidentiality rules). Here at ILSPA, we are firm believers in tidy space, tidy mind. Returning to work for the new year with a fresh and organised work area will help you hit the ground running.
Goals
We can't talk about the new year without mentioning what goals we would like to achieve. The sooner you think about them, the sooner you can get started. So rather than leaving them until January, start considering them in December so that when the new year arrives, you can really put your mind to what you want to achieve.
We hope that these tips will help you to have a productive month and a wonderful start to 2020.