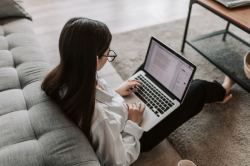 Despite some career progression barriers caused by the coronavirus outbreak, TotallyLegal remains as passionate and determined as ever to encourage the professional development of its audience.
It has created this list with the aim of helping you to make the most of the coming weeks and months at home. Here are some of the best free online courses and resources for legal professionals. Ranging from enhancing your soft skills and increasing your typing speed to brushing up on your knowledge of GDPR, these free online courses provide huge variety in terms of learning and development opportunities.
Removing your daily commute might mean that you have more free hours. While some of this time should rightly be reserved for relaxation, career-focused legal professionals of every level should spend some of it developing their skills and knowledge with these free online courses and resources.
Free online courses for soft skills
Every day, legal professionals rely on a range of soft skills like communication, creativity and negotiation to get their jobs done. The following online courses focus on a variety of these skills, which you no doubt already have but can always improve.
Creative thinking
Whether you are a Lawyer, Paralegal, Legal Secretary or Partner, being able to think creatively in order to solve complex, multifaceted issues is essential for a career in law. Creative Thinking: Techniques and Tools for Success is a free online course offered by Imperial College London that will teach you to communicate in innovative ways, approach problems from new angles and provide novel solutions to your clients. Made up of interactive activities, lectures and video content, the course will take around 18 hours to complete.
Problem-solving and decision-making
This excellent free online course covers everything you need to know about Effective Problem-Solving and Decision-Making. Offered by the University of California, Irvine, the course aims to enhance the critical-thinking skills at the foundation of solving problems and making decisions. By the end of this five-hour course, you will have learned to use synthesis, analysis and positive inquiry to assess problems, evaluate solutions and anticipate risks.
Communication
Communication is one of the most important skills for legal professionals of every level and calibre. This essential Improving Communication Skills course – currently free on Coursera – does not only give you the tools for enhancing your skills, but also reveals the most successful strategies for using communication to your advantage. If you want to learn how to develop trust, ask thoughtful questions, create persuasive messages and much more, this is the course for you.
Collaboration
This Communication and Interpersonal Skills at Work course offered by the University of Leeds teaches how to collaborate successfully in the workplace. Whether you are communicating with colleagues or clients via email, telephone or in a face-to-face meeting, collaboration is an essential skill for any legal professional looking to get the job done in the most effective and efficient manner. Upon completion of this course, you'll have learned how to match your communication to your professional goals and how to control challenging workplace situations.
Perhaps even more appropriate for today's professional landscape is this free online course that aims to enhance your skills for Collaborative Working in a Remote Team. Also offered by the University of Leeds, this course discusses the challenges and benefits of working from home, considering new technologies and project management tools that you can use for project planning and collaboration with your colleagues while working remotely.
Negotiation
If you are a Paralegal or Legal Secretary looking to progress to a fee-earning role in the future, the extra time afforded by remote working would be wisely used working on your negotiation skills. Regardless of practice area, all legal professionals need sound negotiation skills, and this Art of Negotiation course from the University of California, Irvine, makes for a great jumping-off point. Enrol for free today and you'll learn different negotiation strategies, types and tactics, as well as how power and authority influence negotiations.
Leadership
Catalyst – a leading non-profit organisation seeking to accelerate progress for women through workplace inclusion – offers an excellent free online course for Becoming a Successful Leader. During the course, you will learn what makes a successful 21st-century leader and how you can adopt an inclusive leadership style. Requiring just one to two hours of study per week for four weeks, this course is ideal for any legal professional wishing to step up to a supervisory or management role in the future.
Free online courses for hard skills
Hard skills are teachable, measurable talents such as writing code, speaking foreign languages or using a certain type of software. For legal professionals keen to learn a new hard skill in the coming weeks and months, and for those looking to build on an existing skill, we found the following free online courses.
Finance
Particularly important for business owners and those working for smaller companies but also useful for other legal professionals is an understanding of finance and accountancy. Online learning and development website Alison offers a range of free accounting courses for professionals of all levels, featuring topics such as accounting in business decisions and credit control.
Typing
Perfect for Legal PAs and Secretaries, typing.com offers all you need to increase the speed and competency of your typing – entirely free of charge. Typing.com is also ideal for any legal professional looking to give their basic computer skills a boost, with lessons on online safety, coding fundamentals and more.
Business management
Offered free online by King's College London, this Introduction to Business Management course will teach you how to use and apply a range of business concepts, tools and terminology. Throughout the course, you will focus on exploring four key aspects of business management: managing money, managing people, managing information, and – most important – managing yourself. Additionally, London Business School is currently offering a free business management course of its own. Titled Managing the Company of the Future, the course explores both the traditional principles of company management and the alternative principles that are becoming increasingly important.
Data protection
Since the introduction of GDPR in 2018, a greater understanding of data protection and privacy has become essential for many legal professionals – especially those working in commercial roles and in-house. If you're still playing catch-up in this area, this Introduction to GDPR free online course from University College London acts as an excellent starting point.
Computer programming
Those wishing to learn how to code could do a lot worse than the University of Edinburgh's Code Yourself! An Introduction to Programming, which teaches the fundamental concepts of computing, how to programme in easy-to-use language Scratch and, above all, how to adopt the mind-set of a software engineer.
Elsewhere, Udacity offers a great free course that introduces beginners to the fundamentals of HTML and CSS, while Codecademy provides a highly rated beginner's course for popular programming language Python.
For those more inclined to create an app than a website, this free online course from the Technical University of Munich teaches you to do just that, along with the basics of HTML, CSS, JavaScript, jQuery and more.
Any of the above computer programming courses are great beginner options for legal business owners looking to create their own professional website, or for those just looking to expand their repertoire with a highly sought skill.
FinTech
Any legal professional would be wise to get a handle on FinTech, as one of the highest-paying practice areas. Offered by the University of Hong Kong, this Introduction to FinTech course is packed with lessons from leading practitioners and academics about the innovations, technology and regulation driving transformation in finance.
Chatbots
Around the world, leading businesses are investing in chatbots for their cost-saving potential and ability to improve customer service. With this free online course from IBM, you can learn how to build a chatbot for your law firm or business without any existing programming knowledge.
Environmental strategy
This Green Business Strategy course from the Hong Kong University of Science and Technology looks at how businesses around the world are actively responding to climate change, and how you can apply these best practices to your own business. Additionally, the course explores current destructive corporate activities and why many businesses are so resistant to change.
New technologies
Designed for high-level professionals, this course on New Technologies for Business Leaders covers everything from blockchain and artificial intelligence to virtual reality. While this course won't make you a technical expert or enable you to implement these technologies, it is an excellent resource for senior legal professionals keen to learn more about the information technology platforms that have the power to improve client experience and ultimately increase billings.
Machine learning
Meanwhile, those looking for a more hands-on approach to their technology lessons may be interested in this Machine Learning for Business Professionals course by Google. Designed for those without experience of machine learning, the course will show that your business and commercial knowledge are just as important as your technical skills when it comes to building a machine-learning model.
Languages
Have you been thinking about adding a new language to your CV? There's an app – or several – for that. Check out Duolingo, Babbel, Drops or any other free language-learning app to open up new career opportunities and enhance your travels.
Working from home
Finally, for those looking to learn more about the advantages and disadvantages of working from home during the coronavirus lockdown, Coventry University's Work-Life Balance and the Impact of Remote Working course makes for an excellent resource. You'll learn about the history of work-life balance before investigating how flexible working might look in the future.
Did TotallyLegal miss any essential free online courses or resources for legal professionals? Drop them a message on LinkedIn, Facebook, Twitter or at marketing@reachwork.com to let them know.
Article contributed by TotallyLegal.
TotallyLegal is the UK's leading job site for Solicitors, Lawyers, Barristers, Paralegals, Legal PAs and Legal Executives. It advertises the latest private practice, in-house and public sector roles including jobs from the Magic and Silver Circles, and boutique firms.