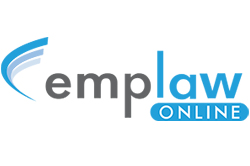 Online resources for legal research can often be hard to navigate. If you are searching for a specific case summary or information on one particular act, you may find yourself looking for a very small needle in a very big haystack. The recently relaunched Emplaw website, however, seeks to change that by offering a clean, easy-to-use interface and focusing on one area of law rather than all of them.
The Emplaw service offers a vast repository of employment law data, including thousands of searchable case summaries and law cards. While the service is subscription only, there is a lot of useful information available for non-subscribers. Non-subscribers can read summaries of all content, which on its own is quite a useful feature.
Subscribers, however, are presented with full content which includes full citations, sources and commentary on all content. There are also bookmarking tools which let you bookmark content so that you can return to it later.
Finding the content you are looking for is made easy through four different content discovery mechanisms.
●Powerful free-text search. Available to subscribers only.
●A-Z indexes of law cards and case summaries. Find exactly what you are looking for by using the alphabetical index.
●The law guide allows you to find the information you are looking for by subject.
●Extensively cross-linked case summaries and law cards. Every piece of content on the Emplaw employment law database is cross-linked to other relative content. This makes it easy to find related information as well as related case data.
Subscriptions are tiered and offer something for everyone.
●Day membership allows you to browse the site for one day. However, you are limited to only 15 pieces of content.
●Annual subscriptions are reasonably priced and allow one user to have unlimited access on up to two devices simultaneously.
●Corporate membership is perfect for firms that would like to give access to multiple users.
If you work in employment law, Emplaw will certainly make your research a lot easier. It is by far one of the easiest-to-use legal databases on the internet.