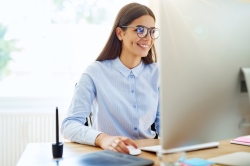 One of ILSPA's aims is to provide affordable training to Students and Members. We are delighted to work in partnership with Prodigy Learning to provide you with a fantastic 50% discount on Microsoft Office courses.
Microsoft Office provides courses in Word, Excel, Outlook and PowerPoint. If you would like to improve your word processing skills, learn more about working with spreadsheets, become familiar with using Outlook for emails or know how to conduct a PowerPoint presentation, then you can now do so at half the cost.
These courses are available for you to study from home. Prodigy Learning will provide you with an e-kit where you can access everything you need online. On completing the course, you will need to attend one of Microsoft Office's test centres to gain a Microsoft Office Specialist Certificate. These centres are located throughout the UK.
If you are an ILSPA Student, you must have an understanding of Microsoft Word so that you can complete the practical assessments included in our courses. Being able to produce legal documentation to a high standard will help you to pass the course and achieve a good grade. Not only is this an important skill to learn in respect of your coursework, but also for your future work as a Legal Secretary.
As a professional Legal Secretary, it is essential to have the right skills for the job. In order to be the best candidate for a vacancy or a great employee, you can develop yourself professionally to ensure that you meet the standards expected by employers.
Please note that Microsoft Office 2019 is not available until next year. Currently, Prodigy Learning is offering the 2013 and 2016 versions, which are still widely used in the workplace.
Become a Microsoft Office Specialist and impress employers! For more information, log in to our Student and Member area and visit our Course Discounts page.